United Way to Honor President Dell'omo and Rider at Annual Awards Events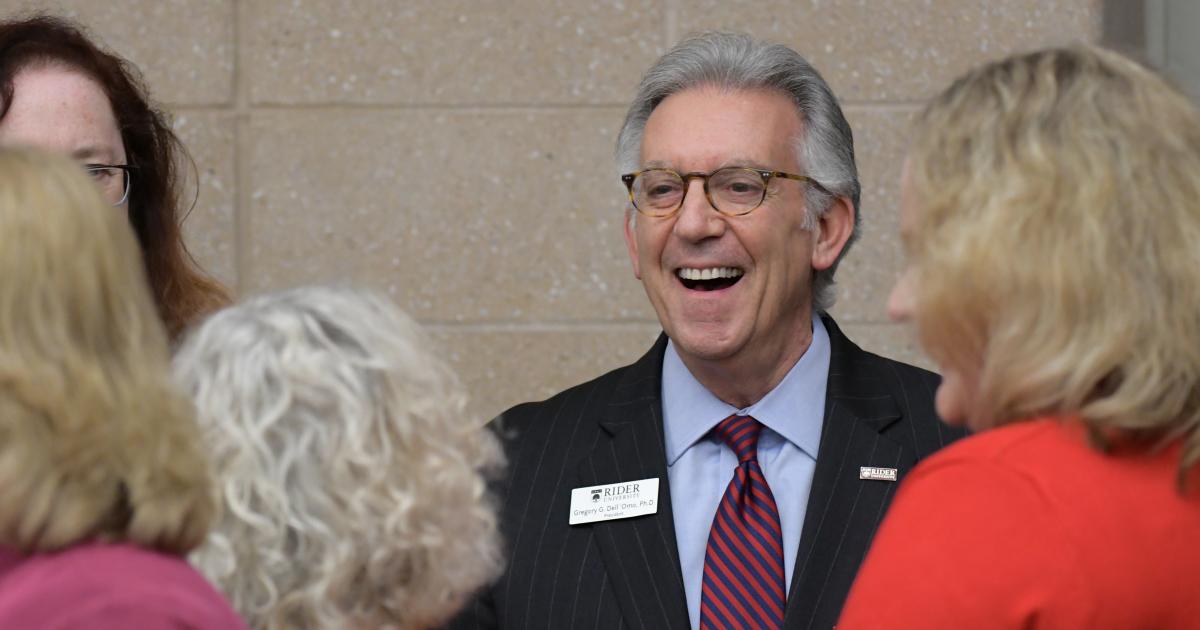 United Way of Greater Mercer County has named Rider University and its President, Dr. Gregory G. Dell'Omo, co-recipients of this year's Eugene Marsh Community Impact Award. The annual award is presented to those who personify Marsh's three core values: caring, respect and accountability.
Dell'Omo will join other winners this year, including Jeannine Cimino, Executive Vice President and Chief Retail Officer of William Penn Bank, Hal English, President and CEO of the Princeton Mercer Regional Chamber of Commerce and Assembly Member Verlina Reynolds-Jackson.
All of this year's winners will be recognized at the United in Impact Awards: Rising Together event on April 26 from 5-7 p.m. at the Social Profit Center at Mill One in Hamilton, New Jersey.
The annual event celebrates community champions who demonstrate leadership, passion and commitment to a prosperous and equitable community in their daily lives. New Jersey Business and Industry Association (NJBIA) President and CEO Michele Siekerka is set to be the event's keynote speaker.
"It is an honor to recognize this year's Community Champions," said Sandra Toussaint, President and CEO of United Way of Greater Mercer County. "Each talented and distinguished champion has made a difference in different ways, whether it's helping students achieve their dreams, supporting the economic vitality of the community, or advocating for the needs of the most vulnerable."
United Way inaugurated the Eugene Marsh Community Impact Award last year. Named in honor of Rider's three-time alumnus, it recognizes an individual, group or organization that exemplifies Marsh's commitment to mental health, veterans, diversity and anti-racism, as well as those who give back to the community.
Following Marsh's death in January 2021 from complications from COVID-19, Rider renamed his veterans office the Dr. Eugene Marsh Center for Veterans and Military Affairs last November. It is the first space in the University to bear the name of a black alumnus.
"Eugene was an amazing person, and I'm so proud to have called him a friend," Dell'Omo said. "Receiving this award means a lot to me personally, but it's also a tribute to everyone at Rider who works to continue his meaningful legacy."
Dell'Omo is proudly Rider's seventh president since 2015. Under his leadership, the University has developed more than a dozen new undergraduate and graduate academic programs, including the University's first doctoral program . He also launched his Engaged Learning Program in 2017 and his Inclusive Excellence Plan in 2019. Rider enjoyed record fundraising during his tenure, including the largest donation in university history. , and an increase of about 36% in the university's endowment. The runner is currently ranked on US News and World Reports List of Best Colleges and The Wall Street Journalfrom the list of America's best colleges.
"We are honored to recognize these outstanding honorees for their continued efforts to be united in impact for United Way of Greater Mercer County and their community at large," said Erin Klebaur '04, President of Imbue Creative and Fellow of the United Way of Greater Mercer County Board of Directors.
Proceeds from the event will directly provide food, rental assistance, access to health insurance, tax preparation services, financial coaching and other resources to help individuals and families. to move forward. Tickets are $75 and sponsorships are available. For more information, including how to register, please visit uwgmc.org/unitedimpactawards.