Three Student Riders Chosen for New Jersey Governor's Hispanic Fellows Program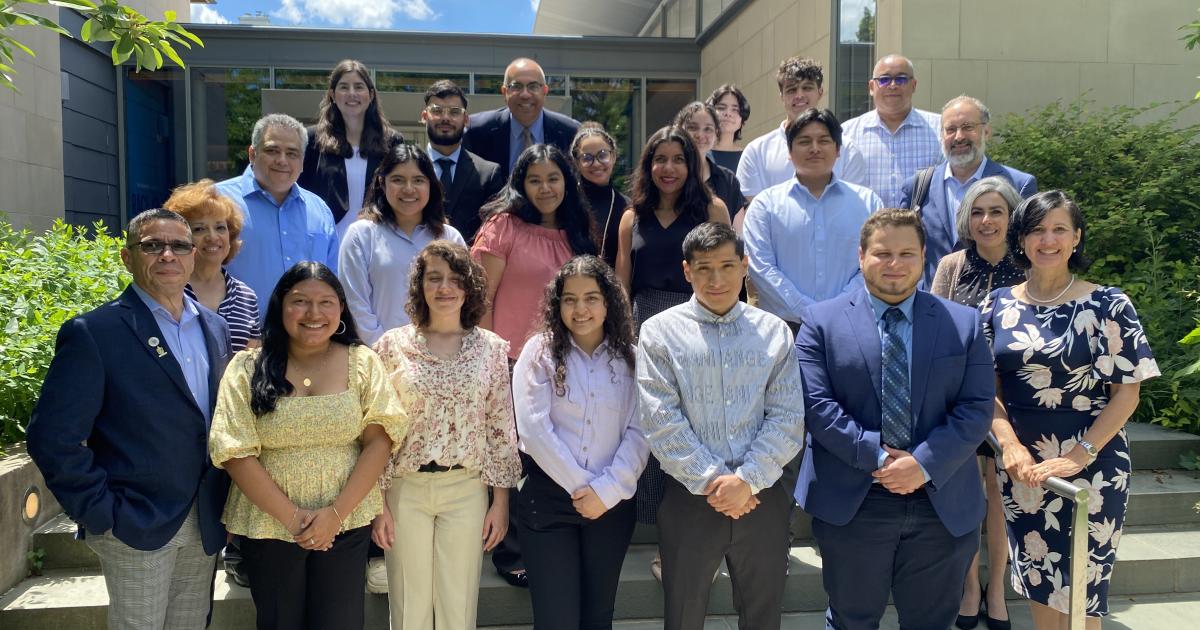 This summer, three Rider University students received scholarships from the Governor's Hispanic Fellows Program.
Program participants receive a combination of hands-on experience and traditional classroom instruction focused on leadership and professional development, as well as other opportunities such as leadership training seminars and guest presentations by professionals leading.
Karla Lopez-Rosa, a rising political science senior and minor in homeland security and Spanish, was interned at the New Jersey Red Cross during the eight-week program.
"I believe mentoring is an important aspect of how we grow as individuals," Lopez-Rosa says. "I'm grateful to have been selected to be part of a program that wants to help the Hispanic/Latin leaders of tomorrow."
About her motivation to join the program, Lopez-Rosa cited a passion for learning more about immigration and its effects specifically on the Hispanic/LatinX community. The scholarship built on his previous experience as an intern last summer with the Latin American Legal Defense & Education Fund in Trenton.
"My role with the organization touched me personally because I got to see what it was like for immigrant families in their need for health care, education and legal assistance," said Lopez-Rosa, president of Rider's political science club, who also interned with U.S. Representative Bonnie Watson Coleman as a student.
Nanci Menchu, a rising double major in Human Resource Management and Management and Leadership with a minor in Spanish, joined Bristol Myers Squibb through the program as an intern within its Global Patient Safety Unit, specifically in epidemiology.
She saw this as an opportunity to grow professionally and challenge herself.
"As a first-generation Latina student, I know I want to succeed," she says, "but I never necessarily had a mentor who looked like me and understood the struggles I went through as a first-generation students and all the hard work it took to get me where I am, which was one of the reasons I was so happy to be accepted into the program."
At Rider, Menchu ​​is president of the Gail Bierenbaum Women's Leadership Council and secretary of the Latin American Student Organization (LASO). "Even though it was an intensive eight-week program, it was amazing," she says. "We have been introduced to many different Latina/o professionals in different industries and businesses."
Juan Molina, a rising senior majoring in finance with a minor in business analysis, also completed an internship at Bristol Myers Squibb in its Worldwide Patient Safety unit, where he was able to put his finance skills to good use researching and analyze potential investment opportunities for the multinational pharmaceutical company. company.
At Rider, Molina is a team leader with Bonner Community Scholars and liaison with the Student Government Association's finance council. He is also a former treasurer of DECA.
"This incredible opportunity provided me with top-notch leadership and work experience while surrounding me with successful Hispanics and others who were there to help me cultivate my own growth," he says. "The program gave me the knowledge and skills to pursue my professional ambitions with confidence. »
The program is open to all New Jersey residents of Hispanic descent enrolled in a two- or four-year college or university program.