Theta Chi Brothers Raising Funds for Scholarship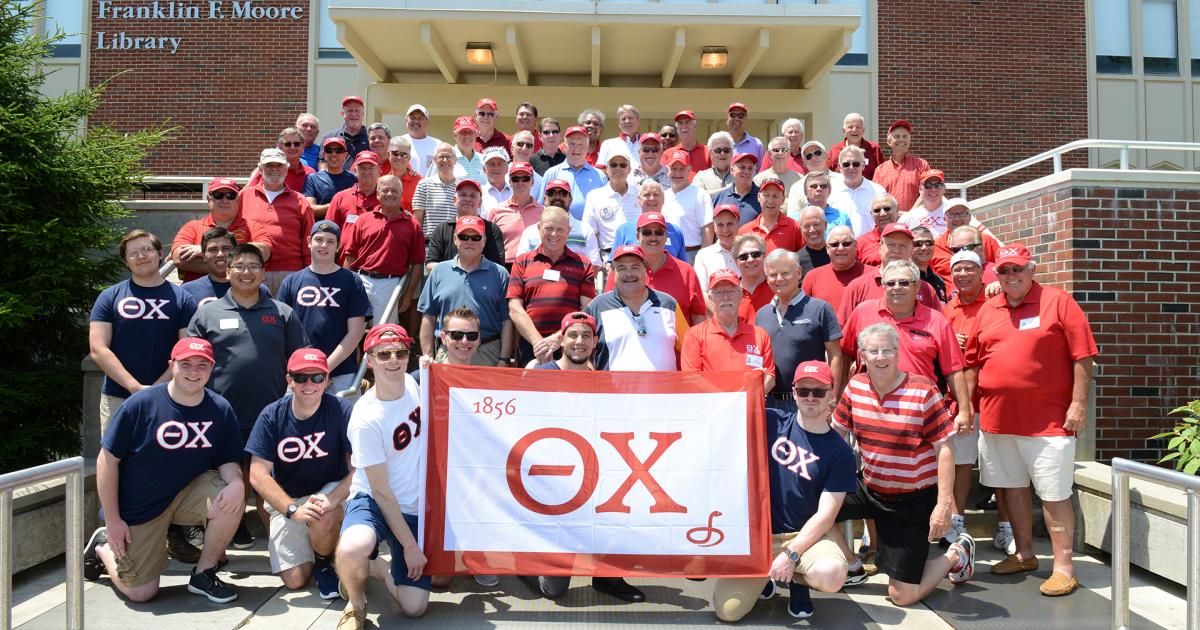 Thirty-seven Rider alumni, all brothers from the Epsilon Rho chapter of Theta Chi fraternity, have banded together to raise more than $27,000 to endow a scholarship to help students in financial need.
Their initiative is the 22nd endowed scholarship created at Rider in the last three and a half years. Endowed scholarships – established through donations of $25,000 or more – create a lasting legacy by ensuring that funds will be available for the educational support of students for years to come.
The Theta Chi Endowed Scholarship began with a $5,000 donation from Michael B. Kennedy '72, '75. It quickly grew to include the contributions of 36 other brethren who sought to provide a scholarship as a means of bolstering the recruitment and retention of new members of the fraternity, thereby ensuring the continued success of the chapter.
"As a proud member of the Epsilon Rho chapter of Theta Chi fraternity, I experienced firsthand the power of fraternity during my undergraduate years at Rider," said Kennedy, a former college administrator and Chairman of the Board of Directors. "Supporting Theta Chi Endowed Scholarship gives me and other members of the alumni fraternity the opportunity to share this rich legacy with the exceptional men of Rider."
But perhaps no one was more committed to the scholarship endowment process than Gary Newhouse '69. "Gary was instrumental in raising funds for this scholarship," says Tim Urbanek '68. "Without him, it probably wouldn't have come to fruition."
Unfortunately, in January, before the announcement of the creation of the scholarship, Newhouse died from injuries sustained in a car accident.
"Gary has done so much to help keep the OX fraternity close over the past few years with his communications with the many brothers across the country," Urbanek says.
Theta Chi is one of the oldest male college fraternities in North America with roots dating back to 1856. Rider had a chapter on campus until 1992, but the chapter lost recognition. The chapter was re-established in 2017. It currently has about 40 members and recruits about eight to 12 new members each year.
Endowments provide important financial stability to the University. The funds are invested and each year a portion (usually 5%) is used, allowing the remaining funds to grow over time.
In addition to scholarships, donors may use an endowment to establish a chair, support a new or existing academic or special program, subscribe to student-engaged learning opportunities, or maintain buildings and programs. Endowments can also provide ongoing support for theater productions, concerts, labs and study abroad, as well as Rider Centers of Excellence.
If you would like to donate to the Theta Chi Endowed Scholarship, please visit https://rideru.thankyou4caring.org/thetachischolarship. or contact Kathleen Smithem, Associate Director of Major Gifts, at 609-895-5589 or [email protected].