SUMMERVILLE – Blood, sweat and tears: This is literally what Alec King has sacrificed to succeed in the world of motocross for the past five years.
The 19-year-old just won the South Central Regional Championship the weekend of June 11-12 and will face the top 42 motocross racers in each of his racing classes – 450 C and 250 C Limited – at Monster Energy AMA National Amateur Motocross Championship at Loretta Lynn Ranch in Hurricane Mills, Tennessee the first week of August.
It is considered the biggest amateur motocross race in the world.
"If you are (at Loretta), you are the best. It's the creme de la creme. You win here, you'll have sponsors watching you, you'll have teams watching you, you'll have the whole industry watching you," King said. "It's our Super Bowl."
Motocross is not new to the King family. His father and grandfather both rode motocross, and King's father loved it so much he bought King a mini bike before he was even born.
"I started riding when I was 1 or 2. Then my dad died when I was 6. And when my dad died, I stopped riding until I was 14. ", King said. "In 2017, I was just a normal kid. I was in eighth grade, just going to school and not really knowing what I was going to do with anything.
After attending Daytona Supercross with his stepfather, Dustin Miler, in eighth grade, King said he realized he wanted to race motocross again. Dustin and Dawn Miler, King's mother, agreed to let him have a go.
"I rode a few times (at the local track) and ended up getting knocked out because I didn't really know what I was doing," King said. "(Dawn and Dustin) said, 'Well, if you're going to ride, you're going to run. We want to train you.'
Set to work
King had heard of the Millsaps Training Center in Cairo, Georgia, by word of mouth due to the success of Colleen Millsaps – the center's namesake and owner – in training several motocross champions and professionals, such as Bryan Johnson, Justin Barcia, Jordon Smith and Joey Savatgy. Dawn and Dustin signed up King for a week-long camp.
Although King said he was the worst kid in camp — he said he fell around every corner and didn't know what he was doing — Millsaps offered him a spot in his training program all the year, which she normally does not. for people who don't already have a motocross reputation.
"She said to me, 'I've seen more heart in you in a week than almost any other person I've seen walk through those doors, and I'll take heart on the talent any day. If you show me your heart, then I'll work with you, because I see you're willing to try," King said.
Dawn Miler said King started his training at a disadvantage and faced kids who had 10 years of experience on him.
"Most of the kids who raced in the amateur motocross scene started when they were 4 or 5, and he was 14 when he started," Miler said. "He came a bit late in the game and he's up against kids who have experience."
Due to the fact that King started at age 14 and "missed those 10 years of riding", he started in Class C and progressed to Class A and B.
Dustin Miler said King trained twice as hard to catch everyone.
"An average cyclist training will ride four days a week," he said. "(King) normally rides six days."
Millsaps said King was one of the worst riders she welcomed into her program when he started, but she not only respected his passion for motocross, but also his resilience.
"He's just had so much adversity in his life. He got hurt a lot, a lot more than we'd like people to get hurt," Millsaps said. "He had fractured and dislocated hips. Someone threw him in the pond and he broke his ankle. It's just one thing after another, but he keeps getting back up.
In the past five years, King has broken his collarbone three times, his hip once, his wrist twice, his hand twice, his shoulder once, dislocated his hip three times and also received 28 armpit stitches. He suffered most of those injuries during the qualifying season, which has consistently sidelined him from running for the national motocross championship every year.
Millsaps said while King has become a much better motocross rider over the past five years, he's also become a role model in the training facility.
"He is very popular with the compound. He is a mentor for many children. And if there's a problem, he's a problem solver," Millsaps said. "There's not a single person in the whole place that doesn't really like him."
King said he considers some of the pros who also train at MTF, such as Jordon Smith – who recently signed to the Monster Energy Yamaha Star Racing team for 2023 – as supportive mentors and friends. .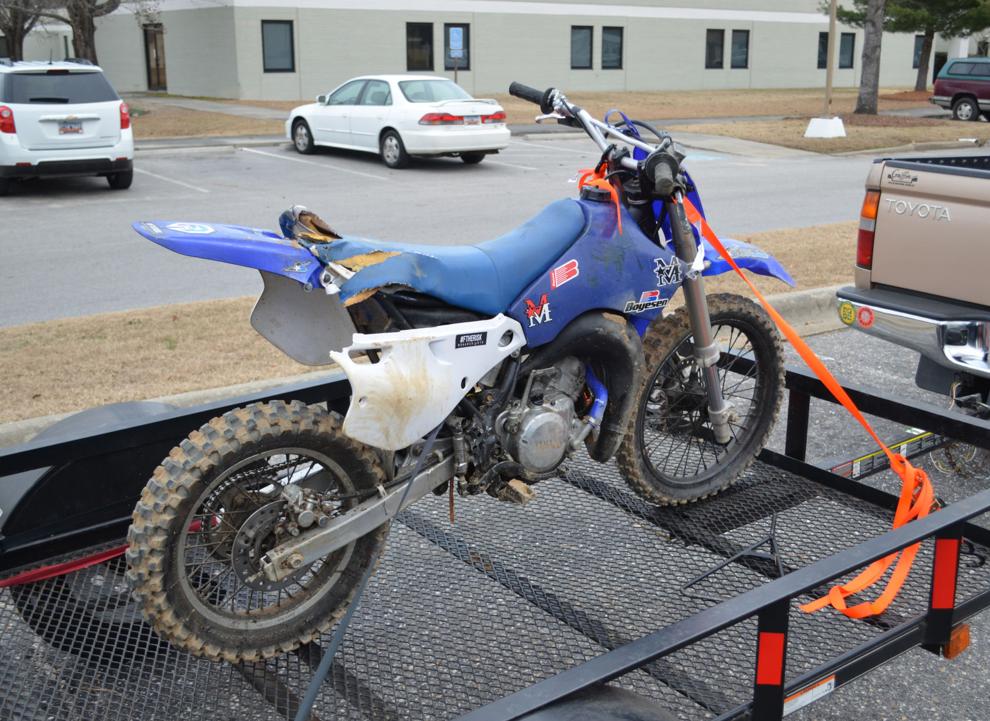 "When I won the regional, they were among the first people to call me or message me, 'Hey, good job, man. We're super proud of you," King said. "It means a lot coming from guys like that, that they pay attention to me."
Coming into the regional championship this year, King said he approached racing with a softer-than-normal attitude.
"I came in with the mentality that I'll let the race come to me…I'm not going to race anybody and I'm not going to put that pressure on myself. I'll just ride as best I can and see what happens in the end," King said. "It was one of the best feelings coming off the track after winning."
Living the dream
King said if he had the chance, he would love to turn pro in motocross.
"There's still a lot I have to learn," King said. "But if the opportunity doesn't arise, I'm very happy with the experience I have."
Dawn Miler said she is beyond proud of how far King has come and is worth all the sacrifices she and Dustin have had to make.
"To be able to give my son the opportunity to pursue his dream and see how hard he works and see it actually pay off for him is just phenomenal," she said. "He was about 4 or 5 when he came to see me (and my husband) and told me his dream was to come to Loretta's. We thought when his dad died, Alec lost that dream. To be able to do that and fulfill the dream that he and his dad had so long ago is truly fantastic.
Dustin Miler said he's known King since he was 4 years old and was happy to be around to watch him grow over the years.
"I'm the proudest dad ever," Dustin Miler said. "I walk around and say, 'He's my son. ""
King said that despite all the injuries and setbacks, he continues to ride motocross because he can't imagine doing anything else.
"In the morning, the little children watch cartoons; I was turning on the speed channel or the NASCAR racing hub. I loved racing: motorcycles in particular, because that's what my father did, what my grandfather did. It's exactly what I was raised to be," King said. "It's all I love, all I feel. That's all I wanted to do in my life. »