Rider Students Win First Place in National J&J Case Competition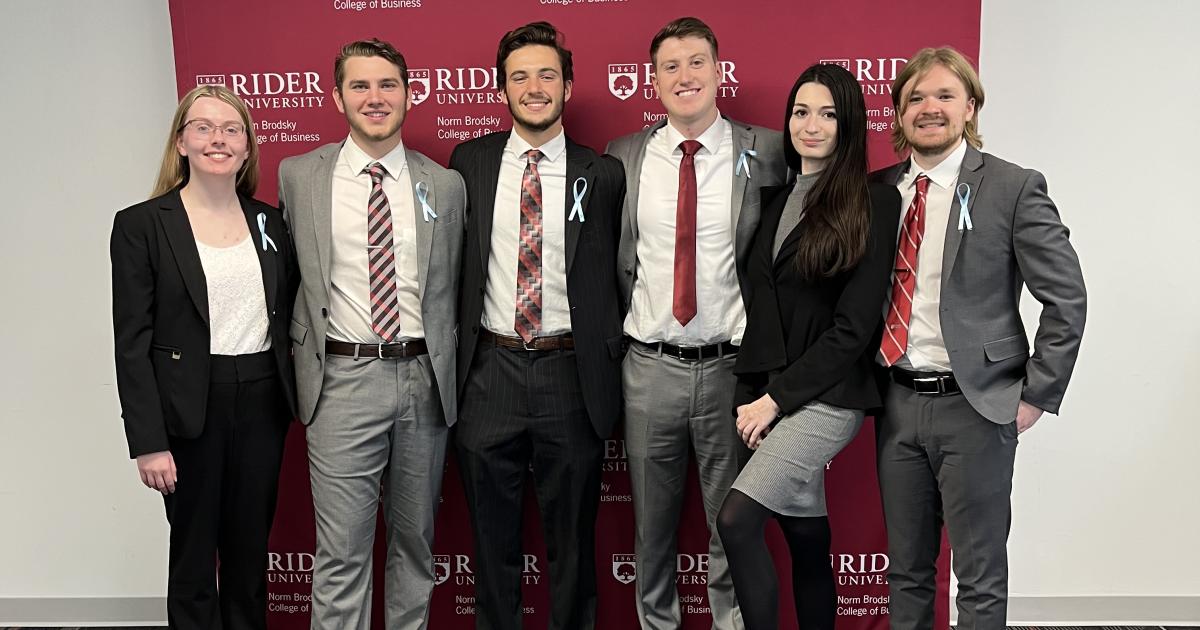 A group of Rider University students have won first prize in the Johnson & Johnson National Business Case Competition.
The team prepared a financial analysis and business strategy for expanding Johnson & Johnson's prostate cancer treatment portfolio and presented it to a panel of company executives.
Rider competed against 10 other institutions: Temple (second place), Saint Joseph's (third place), Villanova, University of Southern California, The College of New Jersey, Lehigh, Ohio State, Rutgers New Brunswick, Rutgers Newark and Hampton.
"I couldn't be more proud of the hard work, dedication and collegiality this team of students demonstrated in applying their business knowledge and demonstrating their professional presentation skills," said Dr. Larry Newman, associate professor of marketing. Newman and Professor William Totaro, assistant accounting instructor, served as advisors to the team.
The Rider team consisted of Xander Praski, double major in accounting and actuarial science, Brittany Lavko, junior finance major, Giuseppe Scordato, second-year human resources management major, Lindsey Mulrooney, junior management and leadership major, Zachary Fernandez , double major in finance and marketing in second year and David Lee, junior finance and business analytics double major.
Rider's National Team is derived from Newman and Totaro's "Case Analysis and Presentation" course. Students are divided into teams and analyze real business opportunities or problems. They then develop and present a set of recommendations to business decision makers. Rider faculty members and administrators provide feedback to groups in preparation for their presentations to an initial panel of Johnson & Johnson executives.
Three Rider teams presented their plans on March 24. Johnson & Johnson executives selected one of the teams to compete at the national level.
"It's hard to believe they're between 19 and 21; they all presented themselves as seasoned professionals," says Gabriel Brun 2009, senior director of business development neuroscience at Johnson & Johnson, who served as a judge at the national team selection. . He earned his master's degree in accounting from Rider. "I couldn't be prouder to be a Bronc."
The course is closely aligned with the goals of Rider's Engaged Learning program, which requires students to complete high-impact engaged learning experiences, such as leadership and mentorship or guided research, to meet academic requirements. graduation. Students who have already participated in the competition help as mentors to the class. The course prepares students to communicate effectively, work with others in diverse groups, and analyze real-world business issues, while applying business and management theories.