Rider recognizes accomplished alumni and faculty through annual awards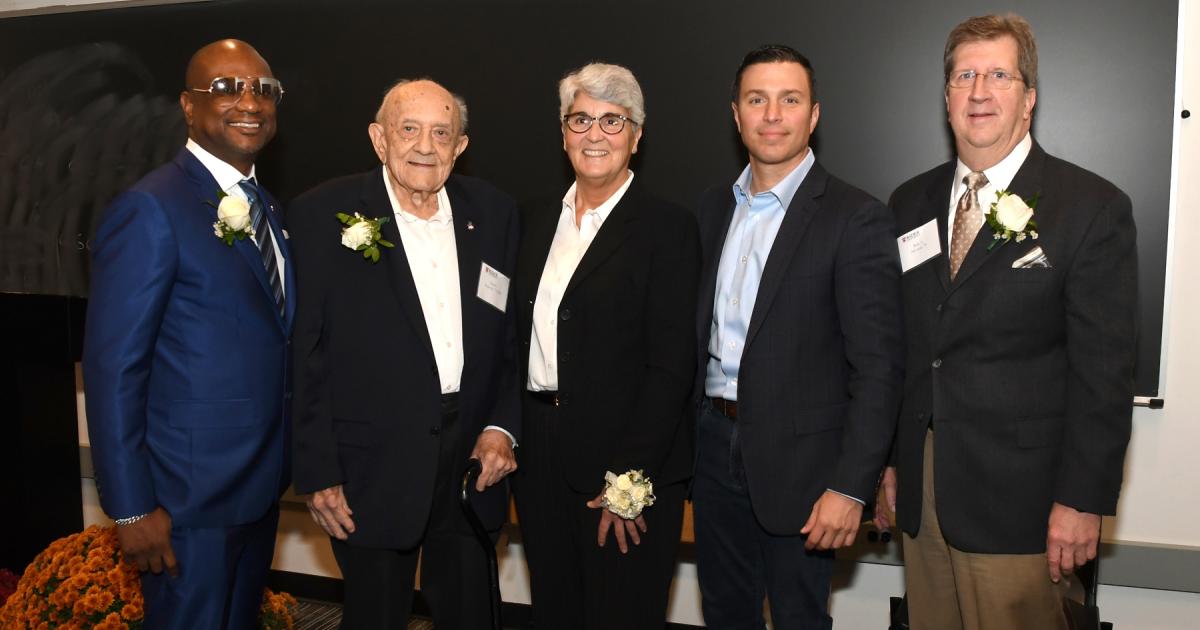 Rider University recognized accomplished alumni at the Alumni Awards Ceremony on October 29 during Homecoming Weekend.
The annual alumni awards were distributed to five graduates for their professional achievements, as well as their outstanding contributions and service to their professions, communities and alma mater.
A Rider University professor and alumnus were also inducted into the Science Stairway of Fame at the ceremony. Located in the Mike and Patti Hennessy Science and Technology Center, the Science Stairway of Fame honors Rider individuals who have achieved significant professional success in their chosen careers, as well as those who have loyally and generously supported Rider programs. Rider scientists.
2022 Graduate Awards Winners
Dr. Robert A. Sikorski '79 received the Distinguished Alumnus Award, which is given to those who have made outstanding achievements in life.
A board-certified anesthetist, he is medical director of trauma anesthesiology in the Department of Anesthesiology and Critical Care at Johns Hopkins Hospital in Baltimore, assistant professor at Johns Hopkins University School of Medicine, visiting lecturer at the University of Maryland. School of Nursing and medical consultant for Edwards Life Sciences. He received the Vanguard Award for Continuing Education in Critical Care Medicine in 2012 and was honored with the Scott Mittman, MD, Ph.D. Award for Best Clinical Teacher of the Year from Johns Hopkins Hospital in 2018, 2020 and 2021.
Already a member of Rider's Science Stairway of Fame, Sikorski pitched for the Rider baseball team while earning a Bachelor of Arts in Biology. He received his medical degree from Centro Estudios Tecnicos School of Medicine in Santo Domingo, Dominican Republic and then his residency at Rutgers New Jersey Medical School where he was the resident administrative chief in anesthesiology.
Tabari A. Sturdivant '95 is this year's recipient of the Lawson R. McElroy Award for Engaged Learning, which is given to a Rider alumnus who works in the private or public sector to help students or employees learn outside of the formal classroom.
Sturdivant's accomplished media career began with an internship at Columbia Records after earning a Bachelor of Arts in Communications from Rider with a concentration in Radio and Television. This experience grew to include working with gold and platinum selling artists at Universal Motown Records and Jive Records. He expanded beyond music when he began working with Tyler Perry at the grand opening of Tyler Perry Studios in Atlanta.
Sturdivant went on to form his own company, Blue Lion Club Production, and was later voted Georgia's Top Independent Filmmaker in 2013 by the Georgia Entertainment Gala. Today, he builds on his professional accolades by volunteering as a mentor and guide for students and young adults aspiring to succeed in the entertainment industry.
Sturdivant credits his experiences at Rider with laying the foundation for his professional career. He was recruited to run track and field at Rider by legendary trainer Mike Brady '76. The 1990–91 and 1991–92 cross country, indoor track and field, and outdoor track and field teams of which Tabari was a member, won the Clair Bee Outstanding Team Achievement Award. The teams also won the "Triple Crown" of the East Coast Conference Championships.
As an undergrad, he was president of the Student Entertainment Council, DJ on 107.7 The Bronc WRRC-FM, and president of the Black Student Union. He was selected as Homecoming King and served as resident councilor at Kroner Hall for three years. He is a brother of Phi Beta Sigma.
Michele A. Powers '84 received the 2022 Gordon E. Prichard '63 Award for Voluntary Service. The award is given to graduates who have distinguished themselves as exemplary in providing voluntary service to their alma mater.
Powers, who earned a Bachelor of Science in Commerce with a major in Management and Organizational Behavior from Rider, is now a Trustee of Rider. She is the current Chair of the Excellence in Education and Student Success Committee. Powers is a founding member and current president of the Gail Biernbaum Women's Leadership Council. She has served on many boards and committees, and as a regular visitor, speaker, and volunteer on campus, has helped mentor a new generation of Broncs, especially female leaders. A frequent supporter of the Annual Fund, Powers has also endowed a scholarship to support female students in any major at the Norm Brodsky College of Business.
Perhaps closest to her heart, Powers, who played both field hockey and basketball as a Bronc, is an avid supporter of Rider Athletics, including the women's basketball team. , for which she has taken many players under her wing as a mentor. She also served on the Rider Athletics campaign committee.
Frederick C. Kniesler '70, '73, '80 is the recipient of the 2022 Harold L. Conover Leadership Award, which is presented to Rider graduates who have distinguished themselves as exemplary leaders in nonprofit, professional, community, or government service.
A chartered accountant and certified municipal financial officer in the state of New Jersey, Kniesler's long career in public service spans more than four decades. Beginning in 1954, he was elected Township Clerk of Upper Freehold Township in Monmouth County, New Jersey. He was then a member of the township committee, treasurer and, for five years, mayor. Subsequently, he obtained positions at the Manasquan Regional Sewerage Authority as project coordinator, secretary and treasurer. Then, in 1977, Kniesler was hired as clerk of the Monmouth County Board of Chosen Freeholders, after which he became assistant clerk. Ultimately, he assumed the role of Deputy Commissioner of the New Jersey Department of Labor until his retirement in 1997.
He is a past president of the National Association of Government Labor Officials and a founding member of the New Jersey Conference of Mayors. Kniesler served as a Sergeant in the US Army and as a member of the US Army Reserves for 12 years. He earned an Associate of Arts, Bachelor of Science, and Master of Arts from Rider.
Jennifer N. Sorensen '12 received the Outstanding Young Alumna Award, which is given to those who have graduated from Rider within the last 10 years and have achieved notable success in their work.
After earning a Bachelor of Arts in History from Rider, where Sorensen received an Undergraduate Research Fellowship and a Levine Phi Alpha Theta Award, she went on to earn a Master of Arts in World/Comparative History and a Master of Social Work , both from Rutgers University. She is a licensed social worker currently employed by Penn Medicine Princeton Behavioral Health, where she conducts psychotherapy sessions for groups, families and individuals. In addition to the holistic approach she brings to case management, she has accomplished experience as a researcher, presenter and volunteer.
2022 Science Stairway of Fame Inductees
Michael A. Amoroso '00 is the President and CEO of Precision BioSciences. He earned a Bachelor of Science in Biology from Rider and an Executive Master of Business Administration in Management from New York University's Stern School of Business. At Rider, he was also a member of the wrestling team.
He has held numerous management positions in major biopharmaceutical companies. Prior to joining Precision, he served as President and CEO of Abeona Therapeutics, Inc., after serving as Chief Commercial Officer and Chief Operating Officer of the company. At Precision, he leads an organization that provides a gene-editing platform that Precision believes is paving the way for new cell and therapeutic gene-editing therapies.
Dr Jonathan Yavelow served on the Rider faculty for 38 years until his untimely death in 2020. During his long tenure at Rider, Yavelow inspired colleagues and students while enhancing the University's science programs through his teaching and research. In addition to being a professor, he served as assistant dean for science, faculty director of the University's Institute for Health Studies, and chair of the biology department. He also helped convene and lead the Scientific Advisory Board.
His research has been widely published in scientific journals, and in 2013 Yavelow published a book, From Stargazing to Sustainability: Appreciating the Scientific Process, on which he worked as a visiting fellow at the Institute for Advanced Study in Princeton, New Jersey. From 2012 to 2018, Yavelow served as Commissioner of the New Jersey State Commission on Cancer Research, a position to which he was appointed by the Governor of New Jersey.