Rider makes first teacher-led international trip since pandemic began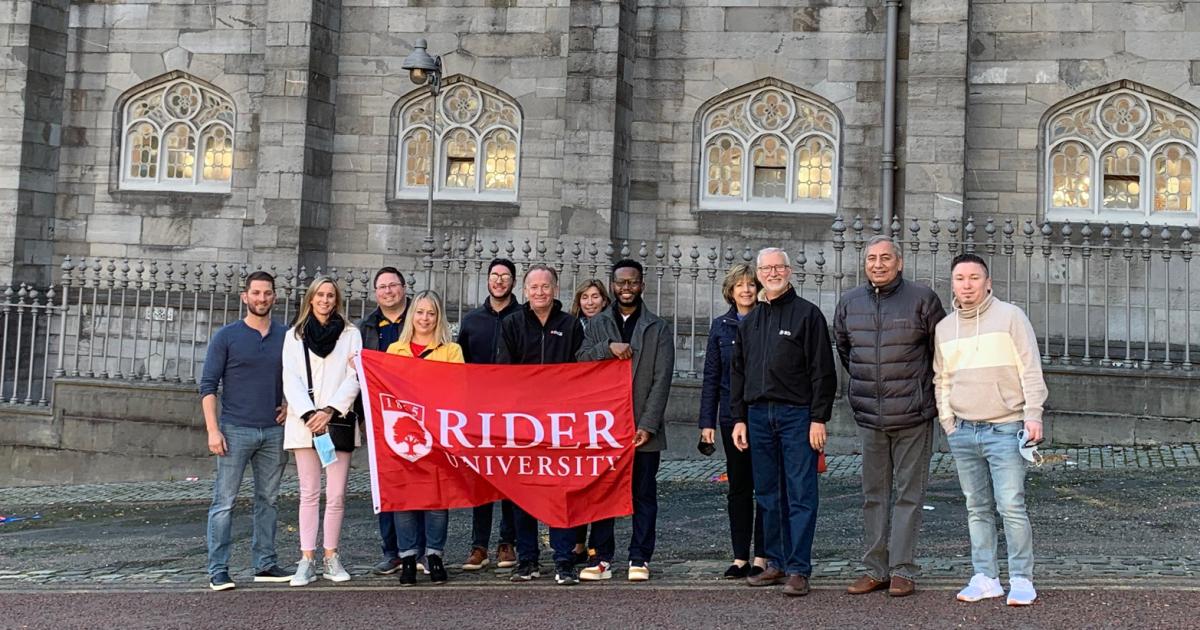 A group of Rider business students recently took an international trip to Ireland – the first program led by University professors since the start of the coronavirus pandemic.
The trip, offered in class as part of Rider's Master of Business Administration (EMBA) program, ran October 22-30 and included visits to Irish cultural and business destinations including the Jameson Whiskey Distillery, the tech startup Zartis and the Irish Industrial Development Agency.
"We couldn't wait to start these trips again – they are one of the highlights of the program and the students love them," said Larry Smith, director of business graduate programs for Rider who participated in the trip.
Steven Klemchalk '07 initially enrolled in Rider's EMBA program to gain an edge while seeking promotion at Johnson & Johnson, a company he has worked for since graduating with his undergraduate degree in Business Administration. Rider business.
"The EMBA program exceeds my expectations," he says. "Right from the start, I learned something and was able to immediately apply it to my career."
Only six months after starting the program, Klemchalk has already received the promotion – and he's been learning more about his employer for 13 years as well. Johnson & Johnson has been operating in Ireland for over 80 years. During the trip, the students were able to learn and interact with a senior executive from the healthcare giant.
"He showcased their innovation and really sparked my interest in this aspect of the business," Klemchalk said. "It also showed me a potential new position that I want to work in internally within J&J. It was exciting.
The purpose of the trip, says Smith, is to give students a broader perspective on how business is conducted internationally. "We look at retail, we look at large multinational companies and small start-ups. We also look at all the differences between the host country and the United States from a business perspective," he said. declared.
Professors from Rider's Norm Brodsky College of Business accompany students who embark on such an itinerary. The real world experience of the teachers was one of the main draws of the program for Klemchalk.
The trip to Ireland included Atul Tandon, adjunct professor with previous executive roles at Mylan, Bristol Myers Squibb, BD, Diageo and Unilever, and John M. Guarino '82, chairman of the board of Rider and adjunct professor. Guarino has over 30 years of experience in international business, most notably as an executive at Coca-Cola.
"John and Atul both have so much international experience, they're both natural for it," Smith said. "John has lived abroad for 30 years and brings a lot of value to the program. Our exceptional faculty is one of the many reasons why Rider's EMBA is one of the top financial stocks in the Tri-State area.
Typically, EMBA students will visit two countries as part of this class, but it was limited to one country this year in an effort to manage risk as the pandemic continues. To participate in the trip, everyone had to show full proof of vaccination, and mask and test rules were in place. "I felt safer in Ireland than here in the United States due to their COVID protocols," Klemchalk explains.
Rider's Accelerated EMBA program can be completed in 14 months. Designed for professionals, classes take place three Saturdays a month. In addition to international travel, the program offers 20 hours of one-on-one executive coaching. The University's AACSB accreditation also distinguishes it. Rider's Accreditation in Accounting and Business is a pass held by less than 2% of all business schools in the world.
The small size of the cohorts makes it likely that they will come together as they move through the program together. "As students go through all the classes together, they form lifelong friendships," says Smith. "This is one of the many benefits of this EMBA program."