Rider Dedicates Center for Diversity and Inclusion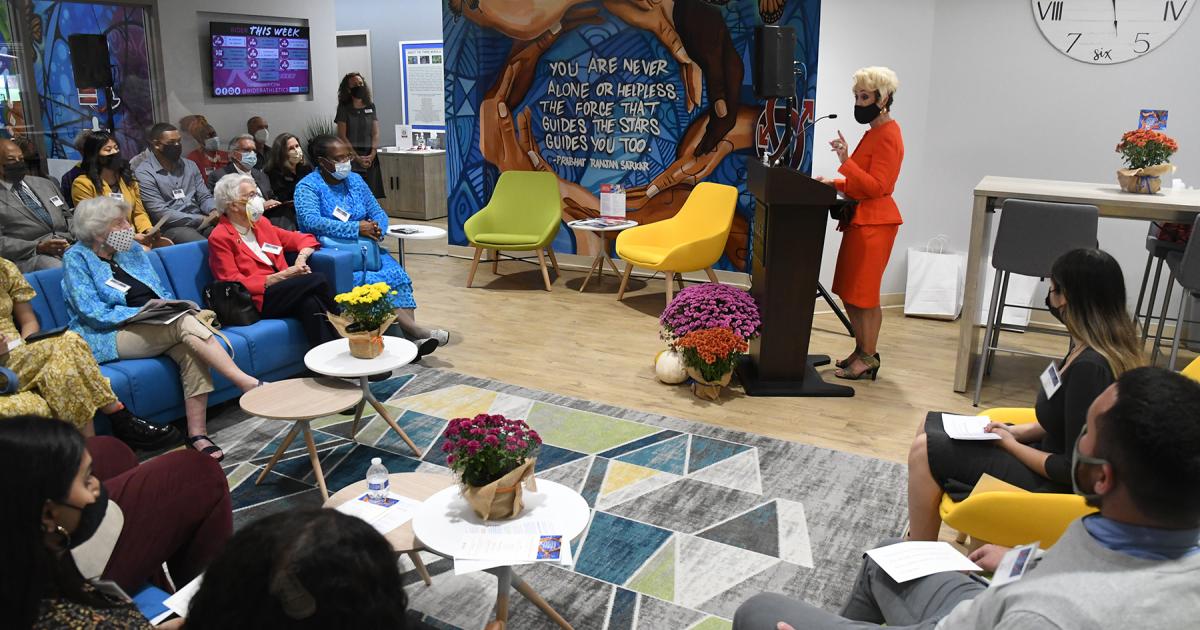 Rider University dedicated its new home to the Center for Diversity and Inclusion on October 15, celebrating a cornerstone of the University's efforts cultivate a welcoming climate for members of the campus community across diverse identities and recognizing nearly $112,000 in donations from generous donors who supported the construction of the Center.
The ceremony recognized the strong support the Center has received from alumni, staff and friends of the University with the contribution of over 50 donors. Those who were thanked and recognized at the event for their generosity included Pamela Pruitt, Ed.D., executive director of the Center for Diversity and Inclusion, for whom the show is now named; Leanna Fenneberg, Ph.D., vice president of student affairs, for whom the Identity-Based Student Organizations Workroom is now named; and Investors Bank, which appointed the office of executive director.
Carole Bursac, Associate Vice President and Branch Manager of the Investors Bank branch in Lawrenceville, was on hand to recognize Investors Bank's role.
Additionally, the Center's largest gathering room has been named the Minority Alumni Coalition "MAC" Meeting Room. The Coalition was represented by Garry Keel '78, who organized the group in honor of the late Lawson R. McElroy, assistant director of admissions and financial aid at Rider from 1974 to 1984.
Over 100 Rider students, staff, faculty and alumni participated in discussions that first envisioned the space and their suggestions were incorporated into the final design.
"From the beginning, this project was inclusive, seeking out different perspectives to create this welcoming space," says Rider President Gregory G. Dell'Omo, Ph.D. "Our society needs to better recognize the value of listening to distinct voices. This project has certainly benefited and our campus community is strengthened by it.
The Center has been open since August 2020, but the official grand opening has been delayed until the campus is fully reopened so that students and others can participate in the event in person.
In addition to supporting 23 multicultural clubs and student organizations, the Center works with faculty, staff, alumni and peer mentors to foster understanding and appreciation of different cultures and identities to support engagement, retention and student perseverance until graduation.
Among its powerful programs is the Multicultural Student Leadership Institute (MSLI), which has helped freshmen and transfer students from diverse backgrounds successfully transition from home to college life.
"The Center will support students with marginalized identities by fostering their sense of belonging. Through open dialogue, the Center will cultivate a deeper understanding of issues of diversity, equity and inclusion for all students as an essential part of their Rider education," says Fenneberg. "It is our responsibility collective drive to promote inclusive excellence – across all of our identities and backgrounds. »
The Center's inauguration coincides with the addition of Rider's Senior Vice President of Diversity, Equity and Inclusion and its Chief Diversity Officer, Barbara J. Lawrence. Guided by the university's Inclusive Excellence Plan, Lawrence is responsible for overseeing Rider's institutional inclusion goals, including improving employee diversity and strengthening support for underrepresented students, among others. She joined Rider in September and is a member of President Dell'Omo's cabinet.
The centre's prominent location on the ground floor of the Bart Luedeke Center underscores Rider's commitment to fostering an inclusive living and learning community.
"I intend for the work of the Center to reach beyond these walls to encourage awareness of other cultures and ideas and to create a sense of belonging on campus so that all students feel valued and respected," says Pruitt.
From the inception of the Center, Pruitt envisioned a collaborative project with ArtWorks Trenton to create iconic visual elements that appropriately symbolize the values ​​associated with the Center's mission. Together, Trenton artists, Trenton high school students and Rider students have designed mural graffiti that adorns the walls of the Centre.
This year at Rider, 48% of freshmen said they were underrepresented (students of color and/or Hispanic). Approximately 41% of Rider's entire student body is now made up of underrepresented students. This is in addition to the representation of other identities, including 27% first generation in college, 35% low income, 12% with disabilities, a diverse representation of religious affiliations and a significant presence of students who s identify as LGBTQIA+.
University Advancement continues to raise funds to support the Center and its programming. More information on donor opportunities, including the ability to endow programs and namespaces, can be found at rider.edu/center-diversity-inclusion.