Rider dedicates and names veterans center to Dr. Eugene Marsh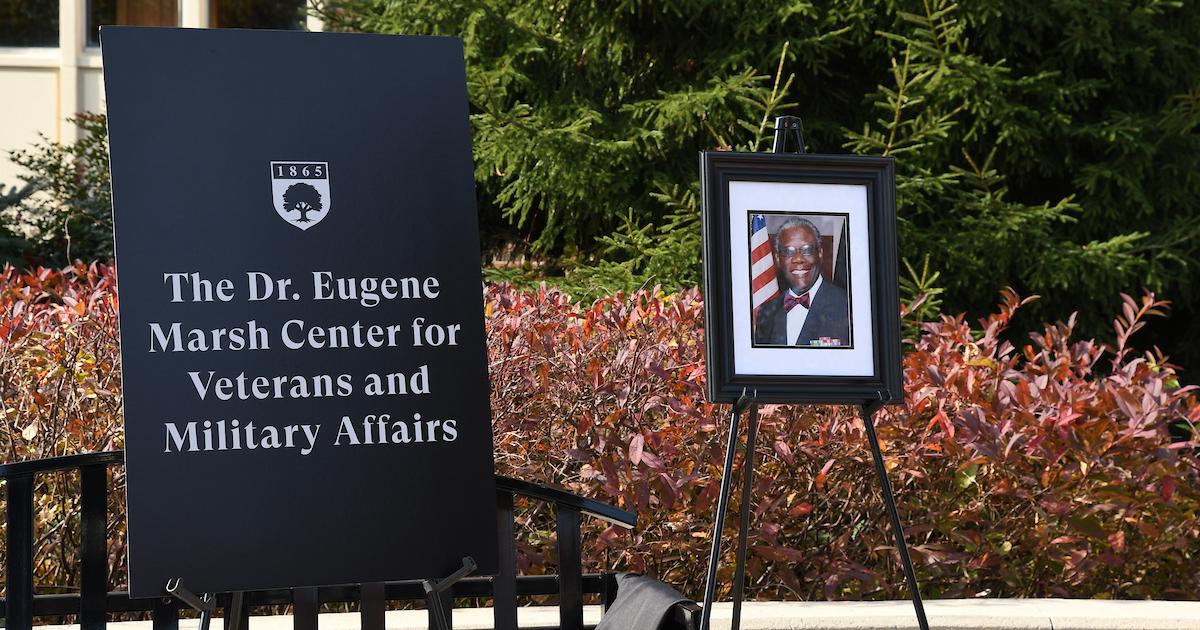 Facing a childhood marked by poverty and racism, Marsh consistently demonstrated courage and determination. He was raised by a loving adoptive mother in South Carolina, who, although illiterate, placed great importance on education. He was among the first black students to enter its all-white high school and joined the military after graduation, feeling that other avenues were closed to him.
Upon returning from Vietnam, Marsh once again felt the sting of discrimination. He could not find a job and became homeless for three years. Eventually, he overcame unemployment and homelessness to start his own construction company, helping restore the Statue of Liberty and earning an invitation to the White House.
Despite this personal success, he never gave up on his dream of attaining an education. He earned an associate's degree at Mercer County Community College before transferring to Rider and earning his bachelor's degree in liberal arts with a concentration in history. Nearing his 70s, he earned his master's degree in mental health clinical counseling at Rider, and at the time of his death at 71, he was working on his doctoral dissertation in educational leadership.
For his thesis, he researched how student-veterans could be better supported to make informed decisions about their major and career goals early in their studies. Rider's board awarded her doctorate posthumously in May.
In recognition of his steadfast dedication to the needs of veterans, Marsh was appointed in January to the Department of Veterans Affairs' Central Institutional Review Board, an opportunity to oversee protections for veterans involved in research studies. But he died shortly after being named to the board.
As news of his death spread, he received tributes from New Jersey Governor Phil Murphy and the PBS Newshour.
"Eugene will always be in our hearts, and it is so wonderful that past, current and future members of Rider University are constantly reminded of the beautiful soul who once graced our campus," said Dr. DonnaJean Fredeen, Provost and vice president. president of academic affairs. "The generosity of those who donated to name the center is a testament to Eugene's impact on the Rider community as well as the surrounding community."
Rider has a long history of supporting veterans studying in college. Among Rider's early students were Civil War veterans seeking job skills to succeed in a rapidly changing national economy. Currently on campus, Rider has 147 military-related students, 43 of whom are veterans.
Campus services are available to veterans, military members, and dependents of veterans and include applying for educational benefits, college transition support, and certification of school attendance at the regional veterans office. fighters.
To support the Dr. Eugene Marsh Center for Veterans and Military Affairs, visit rider.edu/eugenememorial. For more information, contact Associate Director of Advancement Andrea Neale Jarvis at [email protected] or call 609-896-5219.