Rider announces measures to reduce 'sticker shock' on tuition and boost educational value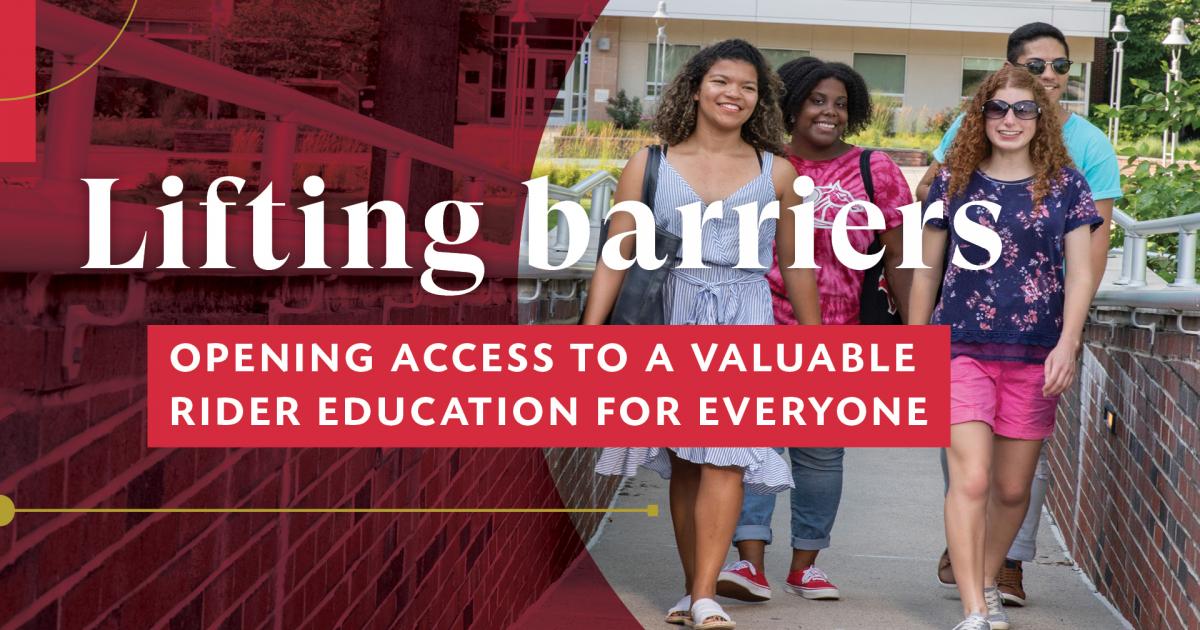 Today, Rider University announced a series of new measures designed to bolster the overall value of a Rider education, including a 22% reduction in annual undergraduate tuition, as well as strong support for career preparation and academic success. Starting in fall 2021 for all incoming students, Rider will reduce its base undergraduate tuition from $45,120 to $35,000.
The new initiative, called Lifting barriersis designed to help students overcome the significant barriers they face to obtaining a successful college education and career, including understanding the true cost of college and the ability to adapt, both socially and academically , in an academic environment and beyond.
"These new steps are a continuation of our bold move to deliver exceptional educational value to our students," said Rider President Gregory G. Dell'Omo, Ph.D. University remains one of the most important investments individuals can make in their lifetime, our goal is to help remove any barriers that prevent a student from thriving at Rider University, including those that imply that a private education is out of reach based on sticker price alone.
Like many universities, Rider currently follows a complex pricing model that offers substantial discounts in the form of scholarships and financial aid.
"While we are very proud of our continued commitment to providing financial aid, that will not change, the current model creates a significant barrier for students and families who feel the advertised price immediately puts a Rider education out of financial reach. ", says Vice Drew Aromando, President of Registration Management. "The new tuition rate is also intended to prevent more New Jersey students from leaving the state to attend public or private institutions at similar tuition rates. After extensive analysis, we have determined that to provide more immediate clarity on the true end cost of a Rider education would best serve prospective students, the institution, and the State of New Jersey.
In addition to tuition changes, Rider is also announcing adjustments to its committed learning program today. The changes are designed to bolster the University's already strong record of preparing students for successful careers.
Rider has set a new goal that 95% of all students, beginning with the Class of 2025, will participate in enriched professional preparation experiences such as internships, fieldwork, and co-op programs across all disciplines, including arts, sciences, business and more. Although the current engaged learning program, launched in 2017, already requires students to participate in meaningful extracurricular experiences to graduate, the new measures double down on the experiences most likely to lead to career success.
"More than ever, students want to know that their education will lead directly to a positive outcome upon graduation," said Kim Barberich, executive director of Rider's Office of Career Development and Success. "The launch of our engaged learning program has confirmed that experiences such as internships are directly correlated to career readiness. It is our priority to leverage this knowledge so that we do everything in our power to help ensure that Rider students are ready to succeed professionally immediately upon graduation.
To make this possible, Rider invests heavily in career development and success with new staff, improved technologies and other additional resources so that students have the support they need to develop skills on the job, build their resume and build valuable relationships.
The move continues Rider's ongoing investment in infrastructure to provide more support for students to understand and benefit from Rider's exceptional academic, social and professional resources. For example, last July Rider launched the new Student Navigation Office, designed to provide students with a proactive approach to success coaching that consists of a strong support system connecting them to their academic, social and professional needs and resources. In September, Rider is set to open its new Center for Diversity and Inclusion space, a cornerstone for promoting a safe and welcoming physical environment and a campus climate that instills a sense of belonging for the community. diversity of the University.
Under the new tuition model, Rider will continue to generously award financial aid and scholarships. Ninety-nine percent of all students currently receive Rider-funded scholarships and financial aid — a percentage that isn't expected to change under the new model. But for new students who receive the new lower advertised tuition fees, the need for financial aid will also be lower. Rider will adjust these scholarships based on reduced need, which means student out-of-pocket costs will remain similar.
"This strategy reduces the trajectory of Rider's high tuition and high discount pricing model, which was skyrocketing to unrealistic levels, but it does not change our commitment to generous financial aid and scholarships," said said Aromando.
Since the net price remains stable, applying the new tuition rate to current students would have no effect on their tuition, which is why Rider has chosen not to apply the new rates to current students. The University will continue to honor the financial rewards promised to current students at the time of admission, assuming all student requirements continue to be met.
"We are committed to full transparency in comparing how the two models would affect each individual and will work with them individually until they share our confidence that they are receiving the best and fairest deal," said Aromando.
Aromando encouraged current students who have questions to fill out this form.
Rider University currently ranks on U.S. News and World Report's list of top colleges and the Wall Street Journal's list of America's Top Colleges. It was ranked the 27th best value school in the Northeast region by US News & World Report. Each year, Rider students complete more than 1,400 internships, co-ops, and field placements. Within a year of graduation, 92% of bachelor's graduates and 96% of master's graduates in Rider's Class of 2019 were employed, pursuing graduate school, volunteering, or in the military, according to a survey conducted by Rider's Office of Career Development and Success. .
"Taken together, these changes should send a clear message that Rider is highly competitive alongside our peers, including public colleges and universities," Dell'Omo said. "I am extremely confident in the unique strengths Rider possesses to support students on their journey to achieving their personal and professional goals."