New freshman experience prepares students for college careers and beyond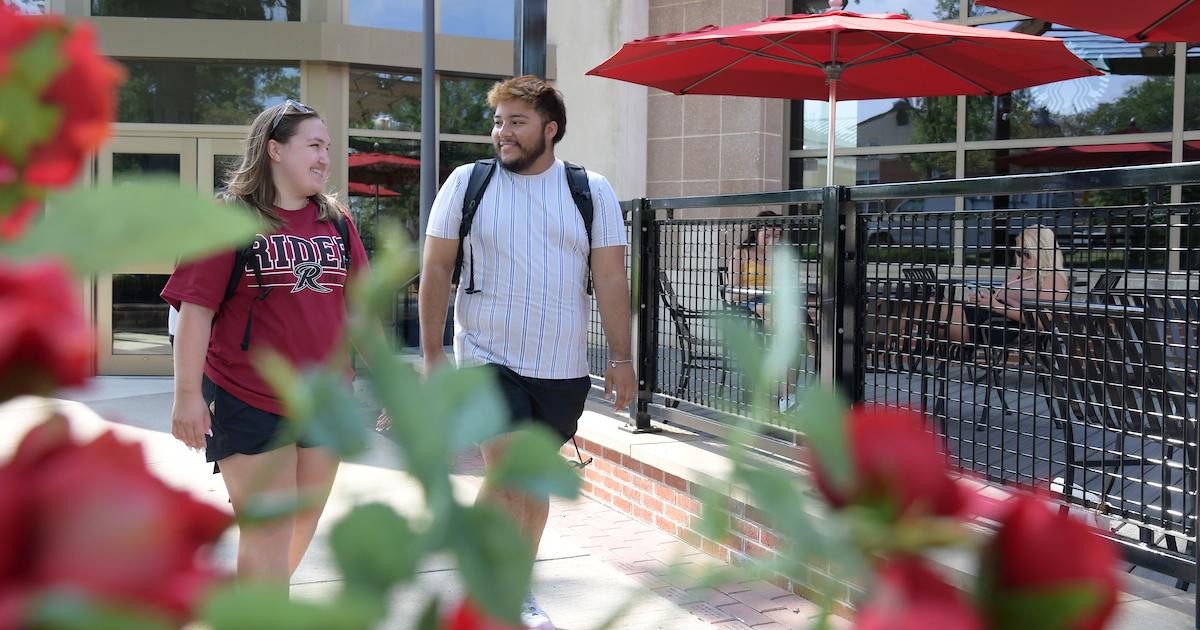 This fall, Rider launched a new freshman experience program for beginning Broncs. The robust curriculum is designed to ease the transition to college and prepare students for success in the classroom and beyond.
Rider's First-Year Experience offers students a personalized team of faculty, staff, and student leaders, programs, events, and activities to showcase the litany of ways they can get the most out of their college experience.
"A successful transition in the first year is essential for students to get the most out of their entire college experience," says Dr. Leanna Fenneberg, Vice President of Student Affairs. "We want to help all students, especially our new students, find their place in the Rider community and support them on their individual journeys."
Over the summer, students were introduced to their team, which consisted of an admissions counselor, a financial aid counselor, an orientation manager, a navigation coach to connect students with personal and academic resources, an educational advisor and a career coach. Students were first welcomed to the University during orientation, where groups of orientation leaders prepared new Broncs for their transition to Rider in small groups.
Five early arrival programs allowed specific groups of students to move into Rider in advance. They include the Milestone Scholars Program, Educational Opportunities Program, Student Support Services Program, Multicultural Student Leadership Institute Program, and Rider Bonner Community Scholars Program. The programs help students connect with classmates, access resources, and acclimate to the Rider community before class begins.
Welcome Week, which runs from September 4-10, marks the official start of the semester for all Rider students. Beginning with new student move-in day, Welcome Week features more than 20 events, including the beloved Cranchella Rider Traditions, Rider Rock Fest and Drag Race.
Also part of the experiment, Rider is piloting a new first-year seminar course for credit this fall. The pilot project will include freshmen from majors in the College of Arts and Sciences and the Norm Brodsky College of Business. The course will introduce students to issues of diversity, equity, inclusion, and social justice, and integrate topic-based discussions and activities into common reading across class sections. Students will read and discuss Tales of Two Americas: Stories of Inequality in a Divided Nation by John Freeman. The course will also provide a foundation for the essential skills and habits needed to become a successful college student.
"This new seminar will not only help students acclimate to university life, but will allow them to immerse themselves in important, broad and complex topics with their peers and to be introduced to the habits of mind that lead to a life independent learning and research," says Dr. DonnaJean A. Freeden, provost and vice president for academic affairs.
New Rider Broncs can begin participating in Rider's mandatory Engaged Learning Program. Students must earn points throughout their college career by completing experiences in a variety of categories, including arts, media, or creativity; civic or community engagement; leadership or mentoring; study abroad or cultural exploration; guided research or scholarship; or internship, co-op or field work. New students who attend six Rider events from a number of categories can earn the New Student Engagement experience point.
New students can also begin their requirements for the Cranberry investment by meeting with their career coach. Launched in 2021, the Cranberry Investment guarantees that undergraduate students who fulfill their responsibilities will gain entry-level employment related to their field of study or be accepted into a graduate or vocational school within six months of graduation. graduation.