MotoGP, Bagnaia complains about the "ridiculous" towing behavior of MotoGP riders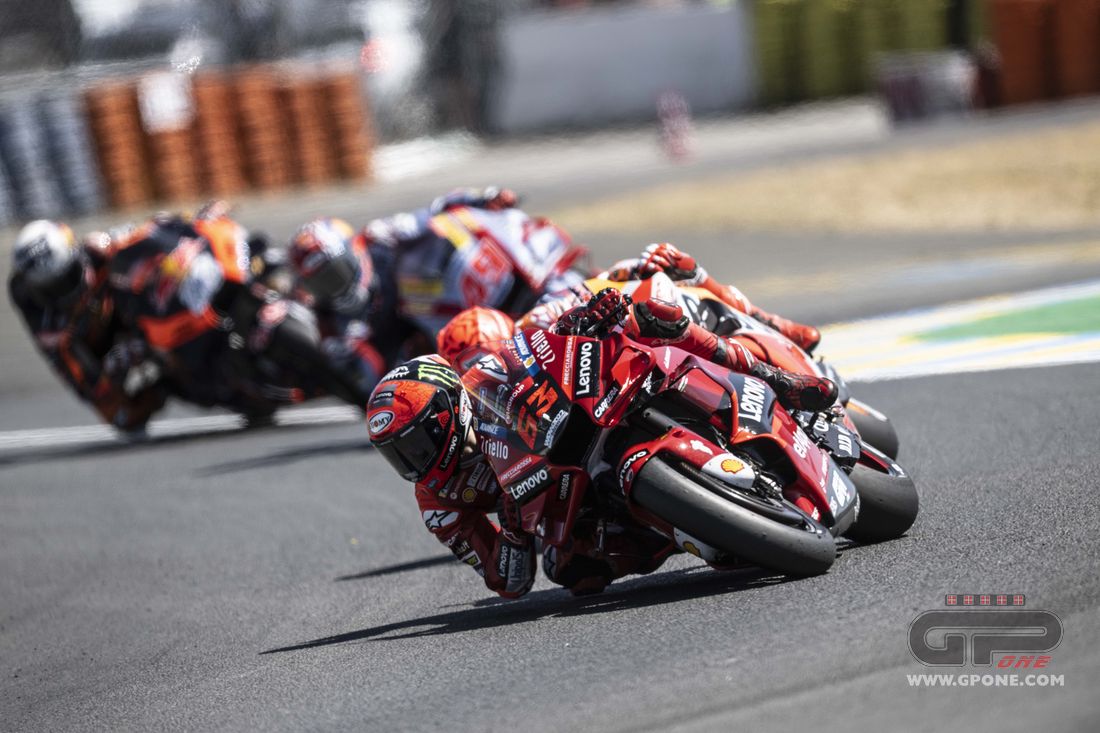 Bagnaia was fifth after Friday's free practice at Le Mans, but the nearly half-second gap to Bastianini shouldn't give a bad impression. In fact, Pecco had his best time with the medium tire because when he mounted the soft, he ran into some issues. And he wasn't the only one.
"My attack on the clock was a bit of a disaster – he smiled knowing he didn't have to give it much thought – I practically did four laps always finding the yellow flags. I never had the chance to find a free track, but the positive side is that I am fifth without having succeeded".
There was also a lot of traffic on the track, with many riders waiting for a tow.
"We have already spoken to the security commission in Jerez, as far as I am concerned, the situation is becoming ridiculous – He continued – We also thought about introducing the same penalties as in Moto3, but that could be a double-edged sword. However, if you think about it, the runners who slow down are always the same and you have to start assessing what is going on. Today was not nice, after the first yellow flag I turned around and I had six riders behind me, everyone closed the accelerator and turned their heads pretending not to see me. This does not seem to me to be the behavior of a MotoGP rider".
Quartararo said you should set a good example for Moto3 riders.
"He's right. I'll tell you one thing: in Argentina, in free practice, I was nervous because there too I had six riders following me, so on the straight I cut the gas and changed my line, a maneuver that was worse to watch on TV than dangerous. That day, Deniz Oncu told race direction that if Bagnaia did that maneuver, then they could do it too. This is the point where we are: they are studying us to have an alibi".
Do you think sanctions are the only way to solve the problem?
"I think we're old and mature enough to sort things out on our own."
Let's go about your day.
"My pace is good, I did a few laps in 1'31.6 and I had an incredible feeling with the medium tire at the rear, with each lap I was able to be more consistent and faster. The other two very fast riders are Quartararo and Aleix Espargarò, we have a similar rhythm".
Will the three of you again be, like in Jerez, fighting for the podium?
"I don't know, I prefer to think of myself. Today I did a good job, even in EL2, with the worst grip, I managed to improve my pace, as did Fabio and Aleix. Anyway, we are only at the first day".
A lot of riders talked about a particular grip today.
"There is a strange grip, we put in incredible times thinking about the track conditions. Already this morning there was something wrong, but I thought it was only because it was the first session, but the afternoon was even worse. Last year I crashed in FP2, the only dry session, because I didn't have a good feeling on the front, it's not great now but despite that I'm much faster."