Kristen Faulkner Q&A – Get to Know the TIBCO-Silicon Valley Bank Team Pilot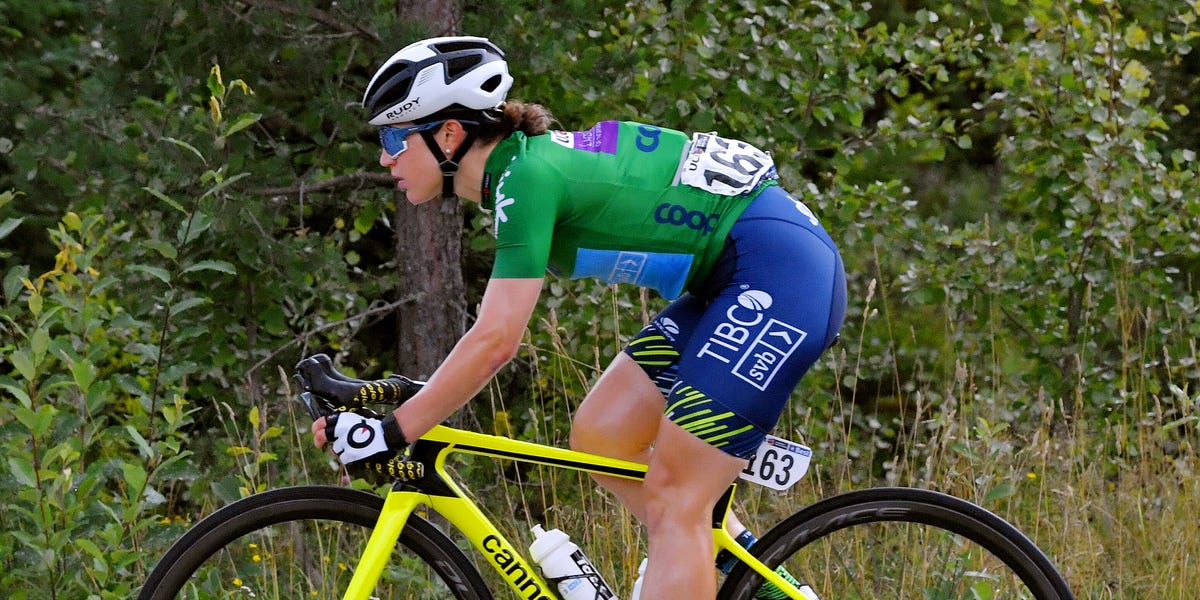 Name: Kristen Faulkner
Age: 28 years old
Hometown: Homer, Alaska
Team: TIBCO-Silicon Valley Bank Team
Greatest achievement: Third overall in the Ladies Tour of Norway
---
Kristen Faulkner of Team TIBCO-Silicon Valley Bank has had a great racing year as a pro cyclist. And it came as a bit of a surprise: While Faulkner assumed she would spend a few years as a domestic professional, the universe had other plans.
The former venture capitalist caught the eye of TIBCO-SVB's Linda Jackson (also a former banker) during a group run early in her riding and racing career, and offered her a place in the team. Faulkner quit her job in finance and became a full-time professional cyclist, living and racing full-time in Europe. However, she still loves the scholarship and is passionate about closing the gender pay gap in cycling.
She also had great results in her first real professional racing season: the 28-year-old recently finished third overall to Women's Tour of Norway, with a Stage 1 Victory in a stacked field.
Right now, Faulkner is in Andorra, training at altitude ahead of the world championships. Between living at 6,000 feet above sea level and doing intervals at 2,000 feet, Ride a bike caught up with Faulkner to learn more about his transition to full-time cycling and his summer of success.
This interview has been edited for length and clarity.
Ride a bike: Let's start by going back. How did you come to cycling?
Kristen Faulkner: I started cycling in New York in 2017 for fun, then joined a club team and grew pretty quickly. I started racing right away in New York, then moved to California and continued racing. Through a group tour, I met Linda Jackson, and she invited me for coffee. She saw my race results in California and invited me to join her team in 2020.
However, the 2020 season didn't really happen. I was home in Alaska and working remotely, and I was really depressed because I thought it was my freshman year, but I hadn't raced at all, so that doesn't really count. I thought my career was completely over before it started. I remember, I was eating a bunch of cookies from my mom's cookie jar – and they weren't little cookies – I just felt disappointed that I didn't get my chance to race.
And while I was eating these biscuits, I received a call from my director who asked me: "So, you want to run the Ardèche? I dropped the cookie and the phone. I had 24 hours to catch a flight to Europe. Things moved quickly.
You worked in finance, specifically in venture capital, before turning professional. When did you call to quit your day job and go all out on the bike?
I was working full time until early 2020, until the pandemic started. In September and October 2020, I left on a half-time basis to race in Europe. I didn't expect to get this opportunity, but there were no races in the United States, and I was shocked when the team asked me to go to Europe to race. As soon as I returned to the United States at the end of October, I returned to full-time work. Then, on January 31, 2021, I completely left. So I went from working full time to cycling full time. I felt really ready for this move.
To do the half-time in the race in Europe was so difficult. It was my first time with my teammates, and I was in my room on my computer all day because I had to be on work hours in California. I missed almost every team dinner. I knew I couldn't keep doing it all, so I decided to focus on cycling because I wanted to see what could happen if I put all my mental energy into cycling. And I felt like I had to try at least to mentally be in the game.
I have ambitions in venture capital and I have ambitions in cycling, but there is more time limit to pursue my cycling dreams. Also, the happiest moment of my day was when I was on my bike. I think for much of my life I rationalized every decision I made, and everything had to be logical and analytical. But when I finally started asking, 'What suits you?' I was able to make this decision.
I think now I'm getting where intellectually I need a bit more stimulation, though. At first, I was happy to catch up on reading and focus on education, but I miss finance. So I started investing a bit on my own, and I keep an eye on the stock market.
How has the training changed since you became full-time?
One thing that has changed this year is that I am discovering myself as a driver. Until this summer, I focused on long, steady efforts. But I realized that I needed to change the way I train and focus on different types of efforts to be a better all-around cyclist. For me, it has been really interesting to analyze my numbers, because they are constantly changing and improving. I have also become more analytical, monitoring my recovery and heart rate variability. But I balance that by wondering how I feel so subjectively.
I didn't do too much training when I left work, because I moved from there to the Spring Classics, so I didn't have time to work overtime! I feel like I was able to occupy my time with different things; I hadn't read a book for fun since high school! It was nice to catch up on 10 years of reading that I hadn't done.
How was the season overall?
It just keeps getting better, honestly. During the Spring Classics, I thought that was a highlight because I finally felt like I belonged in the peloton; I took the lead and learned a lot. But then there was a low point during the summer when I felt totally out of shape, and every race for a month and a half was just my worst race ever.
After a little break, I was able to move to Girona, about three weeks before the Tour of Norway. I have an apartment that I share with a teammate and I can focus on distraction-free training. It was the first time in my life where I had a really strong training block, and it was wonderful.
Then the Tour of Norway went better – I felt that with this race the team started to ride really well together and work cohesively as a team. Since then, things have really taken off.
You were quite candid about payments and issues with the Giro d'Italia Donne in Italy in July. Were you afraid to stand up for equality in women's cycling?
I think there are a lot of women who feel the same way, who may not want or can't talk about it, but appreciate the increased discussion. But I think there are also other people who are wondering, "Who is this new girl who talks so much? Many of them don't really know me yet or where I come from.
My team as a whole has been really supportive of me and I appreciate that I don't want what I'm talking about to be misinterpreted as an attack on my team. They are great and our manager has done so much for the team and for women's cycling. If I'm talking about women in general, and I say we're underpaid or something like that, I don't want people to think I'm talking about our team in particular. I mean in the global sense. So I have to balance that, because it's an important relationship for me.
I think there were a lot of people on the business side of cycling, like race organizers and the media, who reached out to me this spring to talk to me about some ideas. It was really interesting to have conversations and meet more people in the industry. It also gave me a new perspective, learning the inner workings.
I know you can't give real financial advice, but what apps do you personally like to use for investing?
Yes, I'm not technically a Certified Financial Advisor, so I can't give advice. Personally, I use the Robin Hood app, and I really like it because you can buy and sell stocks without having to pay a per-transaction fee, whereas many other brokerages or companies ask you to pay $7 whenever you want to buy or sell a stock. It's really good, in my opinion, for people who are new to investing, because you can invest as little as you want without the burden of those fees, especially if you want to be able to experiment a little more where you' reinvest and what you invest in.
What have you learned from venture capital that applies to cycle racing?
Everything is a calculated risk. I was thinking about this the other day: the women's peloton is starting to run a lot more aggressively, and there are a lot more attacks, solo breaks, things like that. When you attack, you have a high chance of failing. But if you can do it, the victory is huge. It's so similar to venture capital, where the majority of businesses fail, but if you succeed, then you succeed.
When I first started cycling, my manager Rachel always encouraged me to attack or run very aggressively, and I didn't have the confidence to do that. In the back of my head, I was thinking, "That's stupid, I can't do it. It's so much safer to sit in the front group and try to get a top 10 spot. I don't think I deeply trusted the process of aggressive racing. But in Norway, that is to say attacked from the break. And even then, I was like, 'This is stupid. What am I doing? I'm going to get caught. But when I did, it suddenly made sense.
It's like adventure: of course, you're not going to succeed every time. But when you do, it's worth it for all the other times you've tried and failed. My manager didn't expect me to succeed every time. But she expected me to at some point. It totally changed my attitude towards racing.
This content is created and maintained by a third party, and uploaded to this page to help users provide their email addresses. You may be able to find more information about this and similar content on piano.io