Former runners create an app aimed at tapping into the influencer economy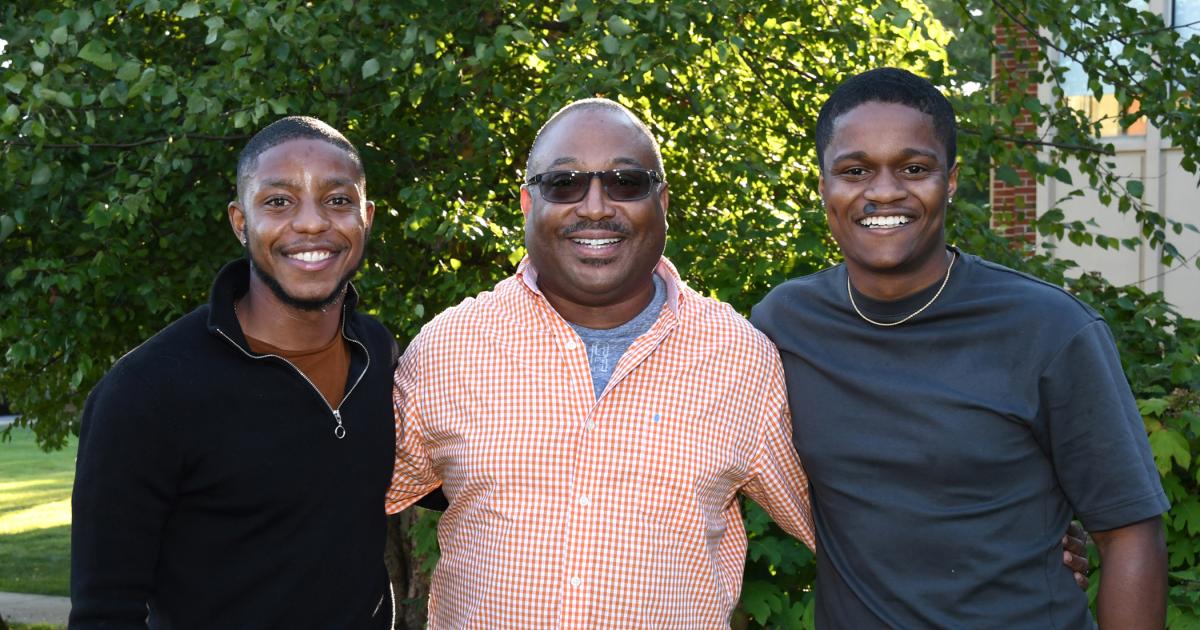 Two Rider alums collaborated with a third founder to create Vora, an app that connects fans and social media influencers through video chats. They hope to make a splash in the multi-billion dollar influencer economy.
Created by Isaiah Jean-Baptiste '20, Brook Wilson '19 and Derik Gadson, Vora helps fans move from simply consuming content from those they follow online to interacting directly with them. This opens up new opportunities to interact directly with people while creating a new revenue stream for those who grab attention online.
"Our product is inherently there to help influencers and their main problem, which is to make money," explains Jean-Baptiste, CEO of Vora.
Jean-Baptiste and Wilson say their concept will likely benefit those with smaller but still significant subscribers rather than the big names with astronomical subscriber counts. "The beauty of Vora is that anyone can find value in a conversation," explains Jean-Baptiste. "There are so many different types of people – you can be a comedian, a chef or a teacher. If you have fans who want to talk to you, that's a precious thing.
Vora's initial concept, which is open to investors, was to create a dating app that focused on video as the primary means of communication rather than text. The founders thought that having users initiate contact via video instead of texting would better simulate what it's like to meet people in real life. The idea evolved over time as they pitched it to investors and started putting together a team to work on the product. Video chat remained central, but instead of connecting those in the dating pool, they gradually widened the reach to include all kinds of people.
"We made a lot of mistakes in the first year, but even in the first demo we did, the most important thing we realized was that people like to talk about certain topics," says Wilson, chief product officer of Vora, who is also a senior data engineer at Accenture IA. "Joining a conversation is something people enjoy and are drawn to."
Vora's current vision came into being after Jean-Baptiste and Wilson met a social media personality who has around 100,000 followers on Instagram. He wanted to commit full-time to being an influencer, but wasn't making enough money to do so. Wilson and Jean-Baptiste felt that among all these followers, some would jump at the chance to have direct access to him. Some might even pay for it.
As the couple began working to bring their concept to reality, they brought in Gadson, who owns a software development company, as an advisor. Eventually, they asked him to become the chief technology officer.
"I've worked with a lot of startups and there are a lot of great ideas," says Gadson. "But there was something about those two guys. I had an inherent confidence and feeling that this product was going to go far. They have the drive, determination and openness to hear ideas and are eager to learn. »
This motivation has been present at least since they were students at Rider. Jean-Baptiste and Wilson, both in computer science at Rider, describe themselves as "extremely ambitious" students.
Both have been on the track and field team, joined DAARSTOC, which is the university's executive skills building organization, and leadership development program, and founded clubs – Wilson, the university technology club, and Jean-Baptiste, a student association called Black Men. Unified.
"We were very involved at Rider, and we wanted to master networking at Rider," explains Jean-Baptise. "As students, we always tried to talk to all these different professionals and got better and better at meeting people and talking to people. We fell in love with the idea of ​​meeting new people. This stuff stayed with us.
Looking back, they say their experience at Rider provided enough training for their entrepreneurial spirit. "We feel like we're meant to be where we are right now, and the university has prepared us perfectly for that," Wilson says.