Education students study abroad for the first time since 2019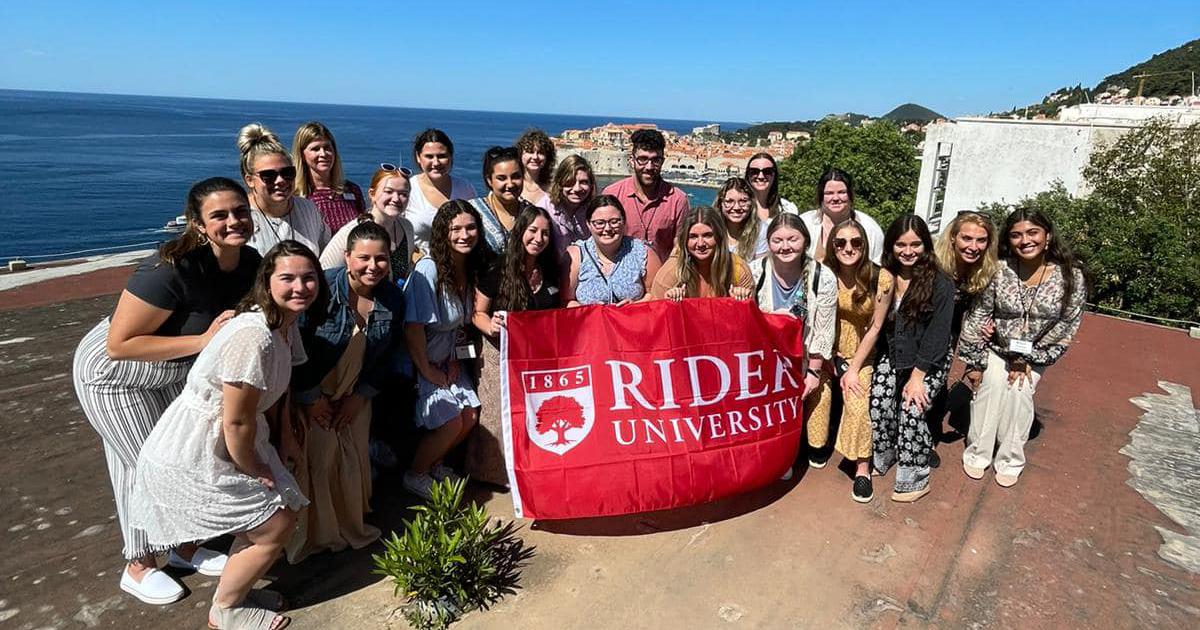 For the first time since 2019, students in Rider University's Teacher Education Department had the opportunity to participate in study abroad experiences.
A trip to Croatia took place May 15-24 and was led by Drs. Diane Casale-Giannola and Sharon McKool, while a trip to Denmark and Sweden took place May 16-26 and was led by Dr. Mark Pearcy and Erica Spence-Umstead, Rider's field course director .
Pearcy says the purpose of these trips is "to explore the educational systems, practices, and educational principles of other nations, particularly in relation to the United States. An additional goal is to help our students experience the personal and professional growth that comes with overseas travel and exposure to different cultures, norms and beliefs.
Students participating in the trip to Croatia visited five schools, where they participated in guest lectures on the country's history and culture, observed the preparation of teacher training and learned about current issues in education.
The itinerary included five nights in Dubrovnik. While there, the group took a walking tour of the city with stops at the Cathedral, Palace and Monastery of Dubrovnik.
The students also visited the island of Lokrum off Dubrovnik, spent two nights in the port city of Split and two nights in Plitvice Lakes National Park, a UNESCO World Heritage Site and one of oldest and largest parks in Croatia.
The trip to Denmark and Sweden began in Copenhagen, where the group spent five nights before taking the train to Stockholm. The students visited secondary and elementary schools, where they had the opportunity to meet and converse with teenagers, all of whom were fluent in English. They also participated in guest lectures and field study events, and took walking tours of both cities.
Highlights of the tour included a visit to a coastal nature center where students searched for marine life, a boat trip around the Swedish archipelago, and several museum visits including the Viking Museum and the Vasa Museum in Stockholm, home to a fully preserved 17th century ship. .
"Denmark and Sweden both have excellent education systems, with a deep and collective sense of responsibility for student well-being," says Pearcy. "The commitment of both countries to developing and maintaining comprehensive social institutions such as health care, education and civic life is truly impressive."
He was particularly struck by the two countries' commitment to play- and nature-based early childhood education, as well as the Swedish concept of 'lagom', which literally means 'just enough'. and represents the idea of ​​taking a balanced approach to life and not being overly greedy, selfish or self-centered.
This year's trips were particularly notable as they were the first since the outbreak of the COVID-19 pandemic. As well as marking a resumption of activities that people have had to put on hold – "I felt very grateful to have the opportunity to travel again," says Pearcy – it has also allowed for a study of the different approaches taken by countries to fight COVID.
"Denmark had one of the most effective public surveillance systems, while Sweden basically encouraged sick citizens to self-quarantine and be responsible, without a national focus on masking or social distancing," observes Pearcy. "Both approaches seemed to work, given the commitment of both populations to collective responsibility."
These study abroad trips for future teachers are especially meaningful for Casale-Giannola, who co-founded the program and has previously led field trips to countries including Spain, Austria, Italy, England, Germany and Ireland.
"I did my thesis on the meaning of international educational experiences, and then I finally paid for it," she says.
She thinks the most valuable part of the study abroad program is the perspective students gain. "Whatever they think of as 'typical', 'normal' or 'what should happen' changes when they learn to look at things from a different perspective," she says. "They find that the experience has changed their lives. They never see anything from the same place again.
Plans are already underway for a trip in 2023, which is tentatively set to visit Scotland and England. Students wishing to learn more can contact Rider's Office of International Education at [email protected].