Delhi: A Land Acquisition Rider for a Smooth Ride | Delhi News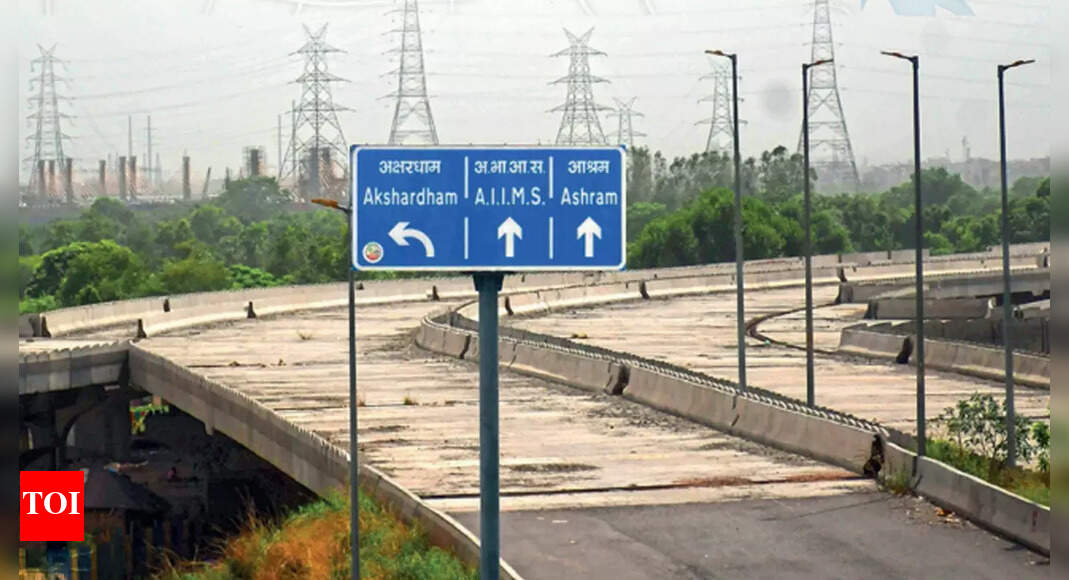 NEW DELHI: According to the Public Works Department, work on the third phase of the Barapullah Elevated Corridor has been suspended until the land acquisition issue is resolved. Meanwhile, PWD estimates that the project will be completed by the end of this year if they secure the required land.
For more than a year now, the ramps in the air corridor have been abandoned, with work abandoned halfway through. When TOI visited the area on Wednesday, he found road signs on the slip road leading to AIIMS and on the parallel carriageway leading traffic back to Mayur Vihar. But the carpeting and street lighting works were static. The section over the Yamuna floodplain remains unbridged over the existing elevated road.
According to government sources, the Ministry of Finance is working to decide on compensation to be paid to landowners. An official said the acquisition has been categorized as 'riparian' land, for which the rate is Rs 17 lakh per acre. But landowners are demanding Rs 3 crore per acre.
"We will hold a meeting with the Secretary of the Revenue Department and the District Magistrate to resolve the issue. The project has not progressed due to this issue," a PWD officer said.
Last September, the Delhi government issued a statement for the acquisition of 8.5 acres of land on the bank of the Yamuna River in the village of Nangli Razapur for the elevated road, but negotiations over compensation delayed the project for over a year. The deadline for hearing objections from the 25 affected owners regarding the land was January 5.
Nirbhay Chowdhary, one of the landowners, said: "We objected to the amount of compensation to be awarded. The district authorities do not give us clear answers. The amount according to the circle rate is not acceptable to us. The government should respect the law, which is the same for everyone. If they don't play by the rules, we'll take the legal route.
The construction agency must erect two giant wells and columns on the bank to support the cable-stayed bridge here. The ground on the Yamuna bank is swampy and construction is difficult and at least eight months will be needed to construct the wells.
The project envisions seamless connectivity between Mayur Vihar I and Sarai Kale Khan, where the corridor will merge with the existing Barapullah 1 road. Corridor Phase 1 connects Sarai Kale Khan to Jawaharlal Nehru Stadium was opened to traffic in 2010. Barapullah II, connecting the stadium to INA Market, was made operational a few years later. The third phase encountered obstacles due to obstacles to land acquisition and missed several deadlines.