Budds Creek MX: Anderson takes the win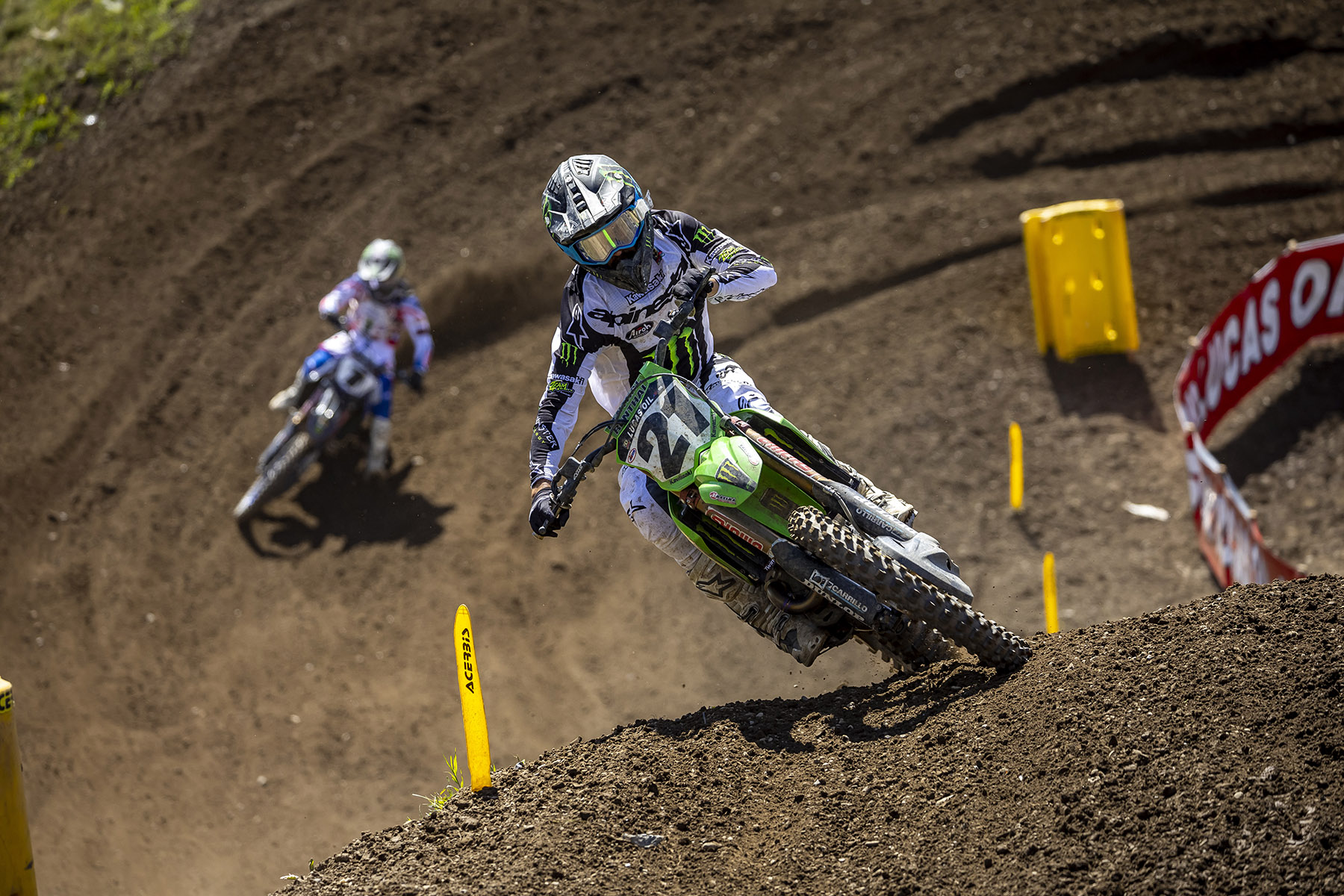 Monster Kawasaki's Jason Anderson earned a second career victory in the Lucas Oil Pro Motocross 450 class at Budds Creek in hot and humid conditions with Eli Tomac and Ken Roczen on the podium.
The first 450 class race started with Honda HRC Team's Ken Roczen leading the MotoSport.com Holeshot with Red Bull KTM Factory Racing's Ryan Dungey in tow, followed by Monster Energy Star Yamaha Racing's Eli Tomac and Chase Sexton of the Honda HRC team, the two championship leaders. Sexton then crashed and fell deep into the field. He encountered even more bad luck on the next lap when he was caught up in another rider's incident.
Sexton's bad luck provided an opening for Tomac, who passed Dungey for second and pressured Roczen for the lead. Tomac bided his time and made the pass seven minutes into the race as Sexton looked to work his way into the top 20 in the running order.
Tomac slowly added to his lead in the middle part of the race and pulled away more than five seconds from Roczen, who asserted his hold on second. Dungey held onto third place for most of the race, but was forced into a battle with Anderson as the race reached its final 10 minutes. Anderson went on the attack at his first opportunity and made the pass for the position.
Anderson's march forward didn't stop there. He closed in on Roczen a few laps later and made an easy pass for second in the final five minutes of the race. From there, the battle for third place went down between Roczen and Dungey as the two longtime rivals chased each other through the closing minutes of the race.
Tomac was in a class of his own and took his 11th moto win of the season 12.1 seconds ahead of Anderson, while Roczen held off Dungey for third place. Christian Craig (Monster Energy Star Yamaha Racing) completes the top five. Sexton fought back to finish seventh.
Motorcycle 2
The final round of the day saw Monster Energy Kawasaki's Joey Savatgy launch into the MotoSport.com Holeshot only to be quickly passed by Dungey as Roczen moved into second. A little further back, Sexton started sixth while Tomac found himself just outside the top 10 in 13th place. Back at the front, Dungey and Roczen battled for control of the bike. Roczen appeared to make the pass, but Dungey countered and reasserted his hold on the spot.
A persistent Roczen didn't give in and managed to make the pass five minutes into the race, which left Dungey fending off Anderson, who quickly moved into second and left Dungey in third. Sexton was fourth, while Tomac worked his way up to seventh. Back up front, Anderson closed in on Roczen's rear fender and did quick work to take control of the lead nine minutes into the race, while Sexton passed Dungey for third. square.
Anderson continued to build on his lead as Roczen came under fire from Sexton and lost his second spot, with Tomac stuck in seventh. Sexton's chase for the lead continued as he began to close in on Anderson halfway through the race. The Honda rider continued to pull away and got close enough to mount an attack, rounding the Kawasaki and taking the lead. Unfortunately, Sexton crashed and gave up control of the bike, moving up to third with just over 10 minutes to go.
Anderson regained the lead and Roczen moved into second, but Anderson briefly stalled and went from first to third, which dropped Roczen in front and Sexton into second. Shortly after, Sexton made another pass to his teammate to regain control of the top spot. That left the battle for overall between Roczen and Anderson as they fought for second place. Anderson stepped up his aggression and went on the attack and fought his way up to second place. Further back, Tomac moved slowly and methodically worked his way up to fifth place in the dying minutes.
Sexton overcame the previous misfortune to claim his seventh moto win 4.2 seconds ahead of Anderson, with Roczen third, Dungey fourth and Tomac fifth.
Globally
As the most consistent afternoon runner, Anderson earned his second overall win of the season (2-2) and second win of his career, as Tomac finished second (1-5) for his ninth consecutive podium. Roczen completed the overall podium in third (3-3), his first since winning the third round.
Tomac reclaimed the point lead a week after losing it to his rival, while Sexton missed the overall podium for the first time in fourth (7-1). A total of two points changed hands between the two riders, with just one point now separating them with two heats and four motos to go.
"Today, two plus two make one. I take it [the win] anyway i can get it. I said we are making progress and this proves it. I've always loved Budds Creek and it feels really good to get the job done today. Let's keep going and see if we can finish the season strong," Anderson said.
Overall Class 450 Results (Moto Finish // Points)
Jason Anderson, Edgewood, New Mexico, Kawasaki (2-2 // 44)
Eli Tomac, Cortez, Colorado, Yamaha (1-5 // 41)
Ken Roczen, Germany, Honda (3-3 // 40)
Chase Sexton, La Moille, Ill., Honda (7-1 // 39)
Ryan Dungey, Belle Plain, Minnesota, KTM (4-4 // 36)
Christian Craig, El Cajon, CA, Yamaha (5-7 // 30)
Joey Savatgy, Thomasville, GA, Kawasaki (9-6 // 27)
Justin Barcia, Monroe, NY, GASGAS (8-8 // 26)
Aaron Plessinger, Hamilton, Ohio, KTM (10-9 // 23)
Malcolm Stewart, Haines City, Fla., Husqvarna (12-11 // 19)
Class 450 Championship Standings (Round 10 of 12)
Eli Tomac, Cortez, Colorado, Yamaha – 449
Chase Sexton, La Moille, Ill., Honda – 448
Jason Anderson, Edgewood, New Mexico, Kawasaki – 369
Ken Roczen, Germany, Honda – 344
Christian Craig, El Cajon, CA, Yamaha – 303
Ryan Dungey, Belle Plain, Minn., KTM – 302
Justin Barcia, Monroe, NY, GASGAS – 259
Aaron Plessinger, Hamilton, Ohio, KTM – 253
Joey Savatgy, Thomasville, Ga., Kawasaki – 218
Shane McElrath, Canton, NC, Husqvarna – 176
MORE READING…