Annual Awards Ceremony Recognizes Outstanding Contributions to Rider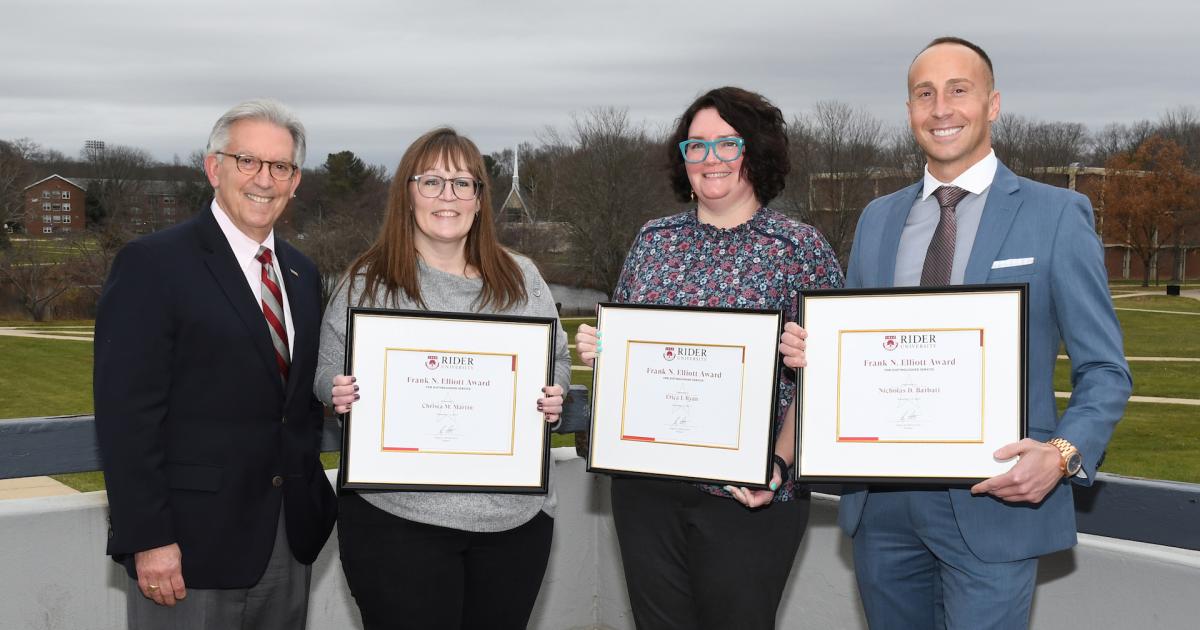 Rider University held its annual Faculty and Staff Awards Ceremony on December 15 at the Bart Luedeke Center Theater. The event marked a return to an in-person gathering after last year's virtual ceremony. The awards honored outstanding employee contributions to the University as a whole.
The Frank N. Elliott Distinguished Service Award is named in honor of Rider University's fourth president and is awarded annually to a staff member, faculty member, and administrator who has provided distinguished service to the 'University.
This year's faculty recipient was Erica Ryan, associate professor of history and director of the Gender and Sexuality Studies program. The administrative recipient was Christa Martin, Executive Assistant to the Vice President for University Facilities and Operations. The staff recipient was Associate Dean of Campus Life Nick Barbati.
Associate Dean for Residence Life, Roberta Butler, received the Nancy Gray Award. Named in honor of former Vice President of Development Nancy Gray, the award is given to a staff or faculty member or administrator who exemplifies the ideals of institutional leadership, school pride, and of community service.
For the first time, a new award called the President's Inclusive Excellence Award was presented at the ceremony. The award recognizes faculty and staff who demonstrate an ongoing commitment to equity and inclusion. The first staff recipient was Elizabeth Carrion, administrative associate at the Norm Brodsky College of Business. The first faculty recipient was Evelyn McDowell, chair of Rider's accounting department.
The Iorio Prize, named after Dean Emeritus Dominick A. Iorio, is awarded annually to an outstanding scholar at the University. Recipients have been recognized as contributing significantly to their discipline through their published work. This year's winner was psychology professor Nadia Ansary, who specializes in conducting research and prevention programs related to the bullying of religious minorities, particularly in a school context.
Each year, two faculty members are selected to receive the Distinguished Teaching Award. This year's recipients were Professor Emeritus of Teacher Education Michael Curran and lecturer Charles Ray.
One nominator wrote of Curran, who also received the award in 2009, "This teacher got me through a lot of tough times. He's understanding and doesn't stop teaching until he's not 110% sure everyone understood the lesson. I had him for three classes, and couldn't have chosen a greater teacher."
Of Ray, a nominator wrote, "I will know I am a success when I can change the life of another human being in the same light that Professor Ray changed my life."
Assistant Professor Emre Yetgin received the Faculty's Academic Advisory Award for his outstanding advising skills, which help students develop their educational and professional goals. A student candidate wrote, "When he recognizes a genuine desire for success in a student, he walks right beside that person to make sure they get to where they were going."
Christina Hamme-Peterson, Professor and Chair of the Department of Graduate Studies, Leadership and Guidance, received the President's Leadership Award. The award highlights the many aspects that contribute to successful corporate leadership.
Barry Davis received the Coach of the Year award. Over 17 seasons, Davis transformed Rider's baseball program into a consistent contender for the Metro Atlantic Athletic Conference (MAAC), winning three conference tournament championships, two regular season championships, and qualifying for 10 conference tournaments. Last May, the Broncs won the MAAC title game and qualified Rider for a regional appearance in the NCAA.
Now in its second year, the Provost's Initiative Award recognizes a few individuals who have played a significant role in advancing a number of important initiatives aimed at preparing graduates, both personally and professionally, to life and work in the 21st century. This year's winner is Kelly Bidle, dean of the College of Liberal Arts and Sciences.
The Ziegler-Gee Award is given to a member of the University who demonstrates exemplary support for gender equality and focuses on ending gender discrimination. Assistant English teacher Laurel Harris received this year's award.
Schedule Coordinator Monte Brown was named the recipient of this year's Michelle McCormack Award, which recognizes a student organization advisor who has served as an outstanding mentor to a student organization.
Both William Eggert and Matthew Babcock were named Officer of the Year. Eggert is a detective and Babcock lieutenant in the Department of Public Safety.
The Mazzotti Awards in Women's Leadership were established by former Board Chair Joan Mazzotti '72 and her husband, Michael Kelly, to provide professional development opportunities in external leadership to female faculty and staff.
This year's recipients were Executive Director of Career Development and Success Kim Barberich, Associate Vice President for Marketing and Communications Kristine Brown, Administrative Assistant Elizabeth Carrion, and Campaign Volunteer Manager and Assistant Executive Vice President for Academic Advancement Courtney Sledge.