Alumnus of Food Network's "Spring Baking Championship"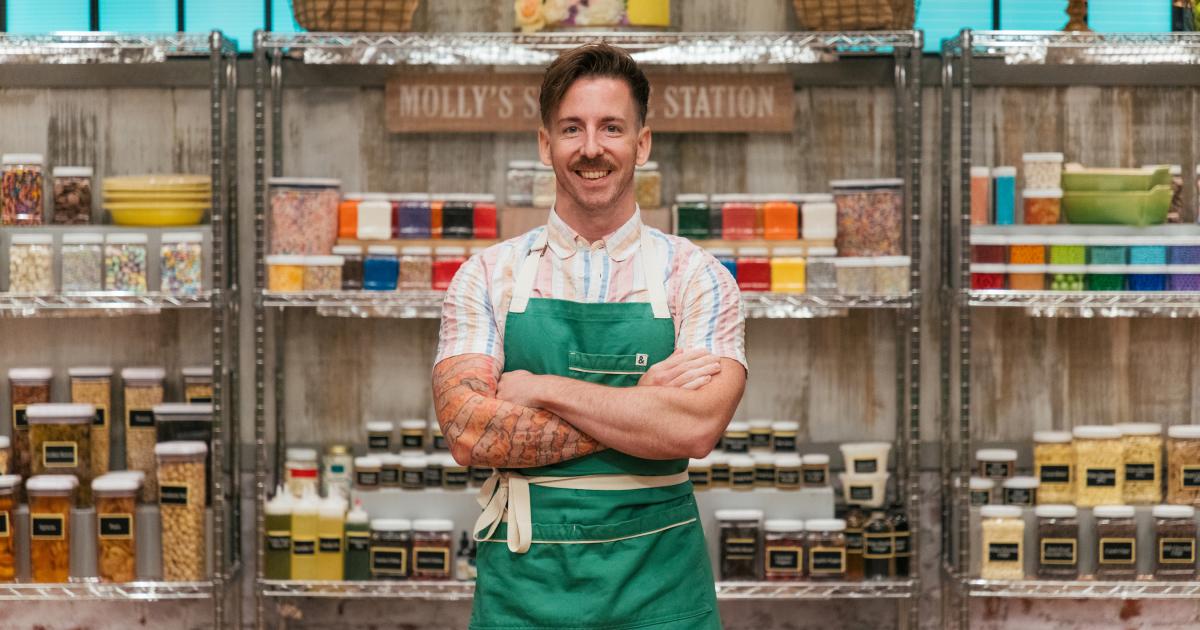 Tom Smallwood '11 runs, throws glitter, makes the judges laugh and, most importantly, whips up some amazing confections for this season of Food Network's Spring Baking Championship.
As one of the show's judges, Duff Goldman, said in the first episode, "He's going to be fun to watch."
The show begins with 12 bakers. Each episode, they are challenged to create innovative baked goods under a time constraint in two distinct categories. A baker is eliminated until the winner is crowned. Hosted by Food Network personality Molly Yeh, the show awards the top baker $25,000 and the title of Spring Baking Champion.
When the show premiered in March, Smallwood hosted a watch party with 70 friends and family in his New York City neighborhood of Hell's Kitchen. His guests enjoyed the pastry he made in the first challenge, a lime margarita pie with strawberry-lime-tequila jam, lime ganache, and vanilla ganache as an accent. Filmed last summer, the show still keeps Smallwood on his toes as a viewer.
"I remember every episode and what I was thinking and the challenges," he says. "Then you see how it's edited, and I watch with as much anticipation as anyone else to see what they're going to show."
Competing alongside talented bakers, while trying to impress the judges – Food Network stars Goldman, Kardea Brown and Nancy Fuller – certainly brings some heat to the competition. But, Smallwood says the clock and surprise elements of the challenges are the hardest to balance.
"That clock is really the EQ and the twists that Molly gives us," he says. "Even with your best plan, you still have to compromise because you forget how long things take, how long things have to cool down."
His favorite creation was a cake he made in the shape of a Mardi Gras float. Named the "SS Mo' Beads", the cake's look and taste won over the judges, earning it its first main challenge victory of the season. A performer at heart, Smallwood even garnished her apron with festive glitter toss while presenting her winning cake.
"I love a concept and I love selling an idea," he says. "I thought I killed the favor and killed the concept. And, I got to throw some glitter on national television, so I was happy."
Smallwood is the Culinary Development and Training Manager at New York's iconic Magnolia Bakery. He started his career at Johnson & Johnson, but after four years in the business he wanted his work to incorporate his passion. He moved to Paris in 2015 to attend pastry school and has been working in the field ever since. At Rider, Smallwood earned his bachelor's degree in finance and was a dishwasher. He credits his time as a student athlete with instilling the focus and determination needed to change careers and get on the show. Athletics also gave him a competitive edge.
"If you see me running, I'm usually the first to access one of the items or ingredients, so my athletic training definitely helped me with that," he laughs.
Her passion for baking began in her childhood during the annual tradition of baking Christmas cookies with her grandfather, who was a talented baker himself. Smallwood's grandfather always baked his grandchildren's birthday cakes, a tradition Smallwood carried on by baking his friends' birthday cakes as a child. To this day, Smallwood also continues to bake her grandfather's crumb cake recipe and treats for her loved ones.
While this season of Spring Baking Championship still unfolding — the finale airs May 2 — Smallwood says her fellow bakers have all become lifelong friends.
"We talk every day, and if I have a question about a recipe or anything, I can ask anyone in the cast," he says. "We're all baking enthusiasts, so it's quite fun to create a new little family to have fun with."