After 19 years at Rider, Sharon McKool is retiring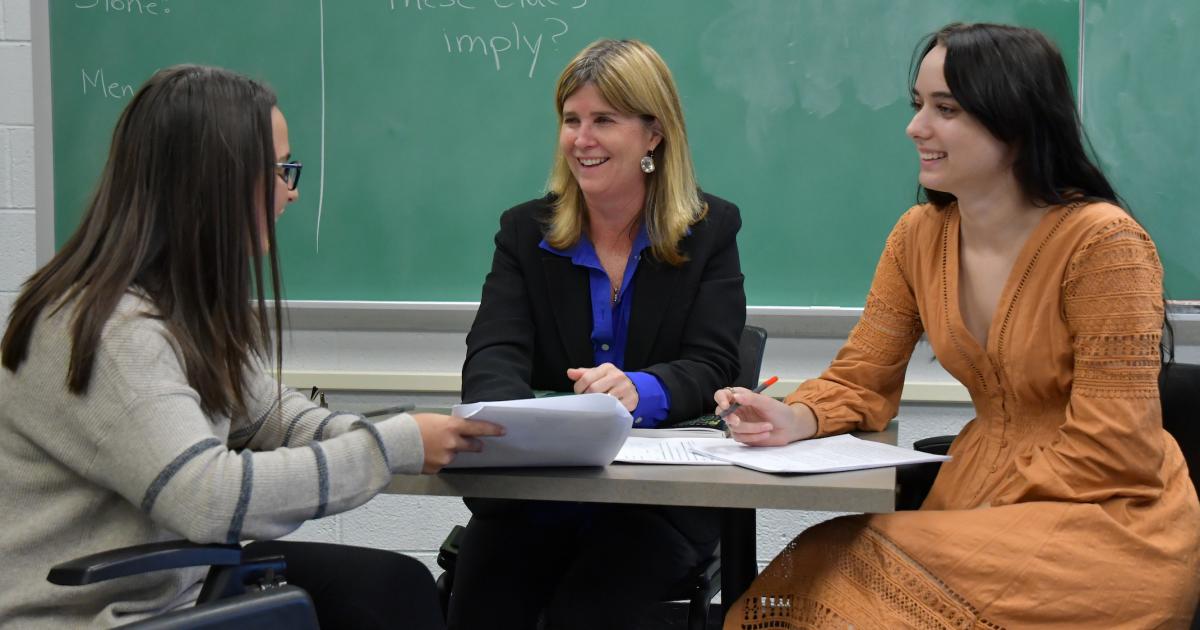 McKool played a pivotal role in guiding Rider's teacher training program
Sharon McKool decided she wanted to be a summer teacher after her freshman year in college. At the time, she was working as a counselor at a camp for underprivileged children in Austin, Texas.
"I realized that one thing all kids need is someone who believes in them and helps them achieve their goals," she says. "So when I started thinking about my career, I really thought teaching was where I had the potential to have that kind of influence."
McKool, who will retire from Rider University on August 31, has done that and more. In a career that spanned from public school teacher to college professor to department chair, she impacted thousands of lives and played a pivotal role in guiding the curriculum. Rider teacher training course.
McKool spent the first five years of her career as a public school teacher before accepting a position as a developmental reading educator at Texas State University. It was there that she discovered her passion for teaching literacy to future teachers, which inspired her to earn a doctorate in languages ​​and literacy from the University of Texas at Austin.
Since joining Rider in 2003, McKool has primarily taught undergraduate literacy classes in the field and taught and supervised student teachers.
An avid reader herself, she has done extensive research on the factors that motivate children to become readers and writers. What she discovered is that the influence of teachers who are themselves passionate about reading has more impact than things like offering rewards to students.
"Teachers who read in their free time are more likely to read children's literature aloud, to recommend interesting books for children, and to demonstrate a love of reading that stems from being themselves. readers," she says.
As chair of Rider's teacher training department, McKool was instrumental in improving all facets of the department's operations and was praised by her colleagues for her problem-solving abilities as well as her flexibility in allowing teachers to create and implement new courses based on current trends in education.
In her capacity as department chair, she was involved in everything from managing faculty workloads to hiring and evaluating adjunct faculty, advising students and meeting with faculty to set goals. to progress through the tenure and promotion process.
Of her many accomplishments, McKool says there are three that stand out the most: being the recipient of the University's Distinguished Teaching Award, the Chairman Leadership Award, and the Michelle McCormack Award, which honors a student organization adviser. who served as an exceptional mentor.
"As I retire, reflecting and knowing that I have been recognized for teaching, leadership and mentoring students allows me to leave feeling like I have had an impact on this place I call home. me for 19 years," she says, "and I hope to be remembered as a colleague who cared deeply about the training of future educators and a president who led by example. .
Describing herself as a lifelong learner, McKool sees retirement as an opportunity to explore new passions and pursue personal growth. She hopes to enroll in classes at her local community college or the University of South Carolina Aiken, where she recently moved to be closer to her children. She plans to learn a foreign language or take nutrition classes, and also plans to take piano lessons.
When not taking lessons, McKool looks forward to spending time with her family, enjoying her new home, playing tennis and golf, and volunteering in the community.
As she embarks on this next chapter, she says the Rider community will always have a special place in her heart.
"My fondest memories will always be the relationships with colleagues and students that were established here at Rider," she says. "I feel truly blessed to have had a career that I have loved every day."