A former cavalryman appointed brigadier general of the United States Air Force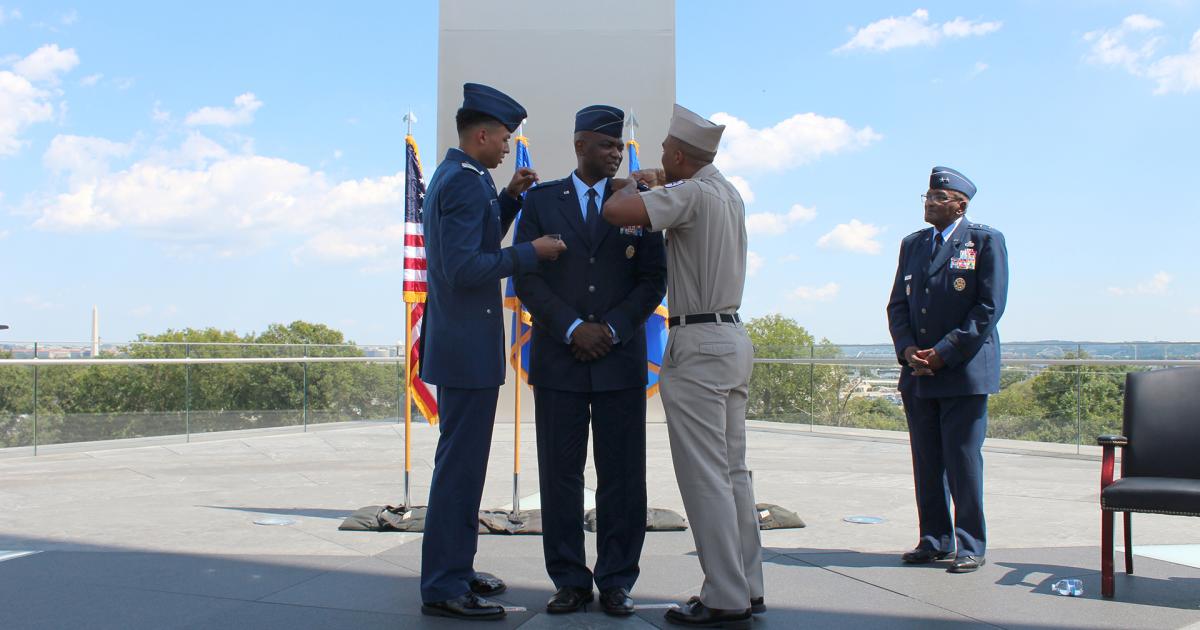 Alfred K. Flowers Jr. '95, '97 becomes the first black chief of the Medical Service Corps
Alfred K. Flowers Jr. '95, '97 was named a brigadier general of the United States Air Force Sept. 7 in a ceremony at the Washington, D.C. promotion, which followed President Joe Biden's nomination of Flowers in April, restores a long-standing family legacy of serving the nation (Flowers' father, retired Major General Alfred K. Flowers Sr., is the longest-serving Airman in U.S. Air Force history).
With the promotion, Flowers became the first black chief of the Medical Services Corps and Director of Manpower, Personnel, and Resources in the Air Force Office of the Surgeon General. Previously, as a colonel, he had already become the country's first command surgeon for the Space Operations Command.
Flowers says the influence of his father's philosophy guided him throughout his 24-year career. "I can sum up this philosophy by doing my best every day, taking care of others and having a good attitude," he says. "I was able to count on this rubric. When I did all these things, opportunities were presented to me. When they did not line up, there was often failure."
Growing up in northern Virginia, Flowers was recruited to play basketball after high school. It wasn't until a chance trip to Lawrenceville that he ended up becoming a Bronc and playing as a forward/center on what would become a legendary team in Rider basketball history, including participating in perhaps the most memorable moment in NEC history, when a last-second jump shot sent the Broncs to the NCAA Tournament in 1994.
"I took a last-minute recruiting trip to Rider and fell in love," he says. "The business program had a great reputation and the basketball program had the energy of a young coach."
More than two decades later, that coach, Kevin Bannon, was on hand to see his former player receive his promotion in front of the Washington Monument.
Aside from the joy and camaraderie of playing basketball (Flowers says he and his teammates stay in touch weekly to this day), being a student-athlete taught Flowers lessons that reverberated throughout his career. career. "The commitment, the education, the struggles, the dedication, the focus – I learned it all as a college athlete," he says.
Although he now considers military service his "higher calling", Flowers' career aspirations did not always align with following in his father's footsteps. He planned to become a state soldier or, as reflected in his undergraduate degree in finance and his graduate degree in health and community services administration, work in health care or finance.
"I always had something special with this military connection, which was always in front of me as an option, but I was also considering other things," says Flowers, whose mother and father both served in the military. 'Air Force. "But the military was the center of my life, and I decided I wanted to follow the path of a noble profession."
He chose to join the Air Force Medical Services Corps, graduating from Commissioned Officer Training School in 1997. Prior to reaching his current rank, he served in the Office of the Secretary of Defense and as Command Surgeon for Space Operations Command. In his new role, he is the Air Force's senior health care administrator, reporting to a three-star general.
At the recent promotion ceremony, Flowers Sr. was on stage to pin his son's first star to his uniform along with Flowers' two sons, both cadets (Kendell at the U.S. Air Force Academy and Ayden at the Texas A&M Corps of Cadets). The family legacy will not end with Alfred. Like him, his sons came to serve alone.
"We would have been supportive one way or another," Flowers says. "But it's a little easier when you make your own decisions. If you ask them, they wouldn't do it any differently. They look forward to serving. »